Alfie Brown
Alfie Brown: Soul For Sale
Stand-up
6:25pm (1 hour)
2-26 Aug 2012
8.50 - 10.50
This is a 2012 show that has now finished.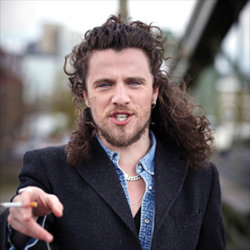 Show details
Stand-up show starring Alfie Brown performed on the following days in August 2012...
Mon
Tue
Wed
Thu
Fri
Sat
Sun
01
2
3
4
5
6
7
8
9
10
11
12
13
14
15
16
17
18
19
20
21
22
23
24
25
26
27
28
29
30
31
Venue details
Alfie Brown is an observational comedian. He observes (occasionally screaming) the hypocritical standards of censorship in popular music, the irresponsibility of producing bad art and the unscrupulous homogenisation of comedy, whilst making you laugh. He also (comedically) observes a world in which greed comes before truth and how the heavyweights of the culture industries keep us addicted for profit, whilst - still - making you laugh. There is heroin in the gruel. Alfie Brown is truly funny. ***** (ThreeWeeks). 'Immensely self-assured and stylish' (Guardian).
Share this show
Reviews
Press coverage
Full press release
There is heroin in the gruel and Alfie Brown is the chief taster. Ever wondered why everything is awful? Ever wondered why there is no love or soul in anything that art offers you? Well, if so then don't ask Alfie because Alfie doesn't care, Alfie wants money, Alfie wants a panel show.
Someone get him a t-shirt with a logo on it, individuals need not apply, Alfie Brown is going to take the comedy world by storm until somebody like Alfie Brown but not Alfie Brown comes along and takes the comedy world by storm.
We live in a world where greed comes before truth, and the heavyweights of the culture industry directly profit from our stupefaction, getting us hooked on nothing, keeping us out of love and leaving the moribund notion of true beauty as a memory.
So until somebody gives Alfie a good price for his soul and he can start mime wanking his way to the top, he'll try hard to embody truth and lambast greed.
Alfie Brown is funny, as if that were relevant.
He has been performing comedy since the age of 18 and has been good at it since the age of 22. His love of comedy began as a two-year-old when he would gurgle in delight at Alexei Sayle's face, later his comedy, and he spent his formative years obsessed with George Carlin and Bill Hicks. This will be his fourth year at Edinburgh, having previously performed in 2009's youth package show The Lunchtime Club, in 2010 alongside Ivo Graham and last year with his debut hour The Love You Take which received two excellent reviews, one good and one average. He is an alternative comedian obsessed with truth and morality and a hatred of the world's fixation with fame and profit. He has twice appeared on substandard talking head shows on BBC2 and BBC3.