Scott Capurro
Who Are the Jocks?
Stand-up
8pm (1 hour)
3-15 & 17-29 Aug 2011
10.50
This is a 2011 show that has now finished.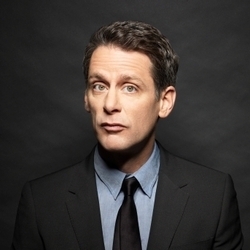 Show details
Stand-up show starring Scott Capurro performed on the following days in August 2011...
Mon
Tue
Wed
Thu
Fri
Sat
Sun
03
4
5
6
7
8
9
10
11
12
13
14
15
16
17
18
19
20
21
22
23
24
25
26
27
28
29
30
31
1
2
Venue details
Following the death of his mother, Scott Capurro waddles through the piercing loss of his best friend and coke dealer. She's in a jar and he's in Cardiff, trying to survive a menacing audience while handling his own grief. 'Like watching someone trying to commit suicide by lynching' **** (Guardian), 'Rude and waggish' **** (Telegraph), 'Brilliantly, shockingly funny' **** (Chortle.co.uk), 'Unmissable' ***** (Scotsgay), 'The most blisteringly funny comedy set I have seen in years' ***** (Latest 7), 'The bravest and funniest comedian on the circuit' (GQ). Read more and slobber over his award listings on his website.
Share this show
Reviews
Press coverage
Full press release
Award-winning comic Scott Capurro returns to the Edinburgh Festival Fringe with the world premier of his new show Who are the Jocks?, a comedy about loss and cocaine.
In Who are the Jocks? Scott examines, in one hour, middle age angst and the death of his mother, Donna. She's in a jar, while Capurro is in Cardiff coping with grief and monitoring his anti depressants. When his comedy set unhinges an abusive audience member, Capurro reflects on the rocky path that led to his near strangulation by a Welsh closet case.
San Franciscan actor/comedian Scott Capurro has become one of the most popular faces on the UK comedy circuit. At his first comedy appearance in Britain, the 1994 Edinburgh Fringe Festival, Scott hit the ground skipping by winning both the Perrier Best Newcomer for his show Risk-Gay, and the Spirit of the Fringe Award. Scott Capurro's Love and Affection Tour, his 1995 Edinburgh show, was nominated for the main Perrier Award.
Since then, the Perrier Awards have disappeared, but Capurro keeps stumbling along, extensively touring the US, Australia, Europe and Canada, having performed several times at the Just For Laugh's Festival in Montreal; and comedy festivals in Belfast, Melbourne, Sydney, Wellington, Prague, Manchester, Kilkenny, Zagreb and New York City. He's successfully played to
(sometimes) sold-out audiences at 13 Edinburgh Fringe Festivals; including his 2008 smash hit show Scott Capurro Goes Deeper, where, during each show, he baked a heart shaped cake for the Make a Wish Foundation.
Other live UK performances include his hour at the Hay Festival in 2007, where over 1,000 cardigan wearers felt guilty and misled.
His first novel, Fowl Play, was published in 2000 and garnered wonderful reviews. Since then he's been ignored by proper publishers, whilst writing for several newspapers and magazines, including The Guardian, The Times, The Telegraph, Index on Censorship, The Age, Time Out Magazine, Attitude Magazine and the San Francisco Chronicle. But who reads? In 2008, Scott returned to the legitimate theatre, and performed in the long-running hit Fucking Men, written by Joe di Pietro, which transferred from London's fringe (Earl's Court. Yikes.) into the West End, playing the Arts Theatre for several months. In 2009, Scott worked in San Francisco, where he starred in David Greenspan's She Stoops To Comedy at the San Francisco Playhouse. The play was adored by the cast and extended.
12 weeks each year, Scott hosts his live chat show Scott Capurro's Position at the Royal Vauxhall Tavern. It's celebrity heavy, and a winning combination of low life and high art. Scott is a veteran of our TV screens. He has appeared on such shows as C4's 8 Out Of 10 Cats, BBC1's The Stand-Up Show, hosted Is That It? for MAI United, and captained a team on the Channel 4 quiz The Staying In Show. He's also a regular on The Wright Stuff on Channel 5. A diverse performer, Scott's talents were incorporated into Mrs. Doubtfire where he played a homosexual, and Star Wars Episode One: The Phantom Menace, where he wore a rubber head.