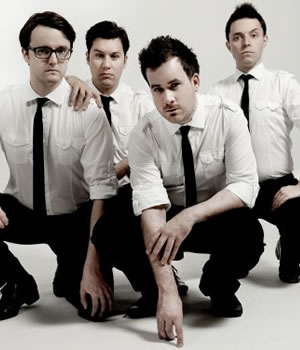 The Idiots of Ants are back for another year at the Fringe and - gasp! - they've ditched their uniform.
While they haven't lost the red, white and black theme entirely, they have dumped their usual threads in favour of a more casual look, which fitted in perfectly with this year's set-up.
The idea is they are welcoming a new housemate to their flat, which has an unusual addition - an audience. To keep us happy, they have to perform sketches. This worked really nicely and I liked the nods - deliberate or not - to previous Edinburgh shows among the decor, including my favourite, the Where's Wally jumper.
If you go to an Ants gig, you must expect a fair old amount of audience participation (of the nice sort). This is tradition, and they did not let us down in more ways than one, ending the performance with every one of us on our feet for an air orchestra. And the added bonus? They're guaranteed a standing ovation every night, of course!
I particularly enjoyed a finger kissing sketch (I shall let you work that one out!) and what would happen if everyone spoke to each other at gunpoint.
The Ants always have nice ideas and they are an incredibly likeable bunch. I think they are a must-see of the Fringe, particularly for sketch lovers, and you are guaranteed to leave smiling.