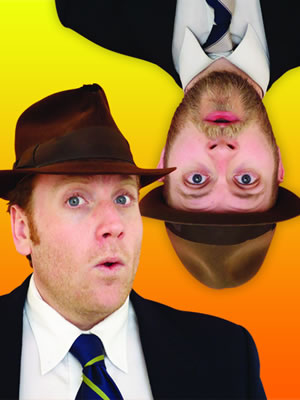 Bob and Jim bring a contemporary edge to the old music hall acts in their new show Modern Urges, an all singing all dancing variety extravaganza with lashings of triumphant tomfoolery. The audience are treated to a host of reinterpreted modern pop songs with some original ones to boot, all with Jim's ukulele backing and a firm sense of fun. But songs are only a fraction of this
show, which is bursting with so many impressive ideas - a true testament to Bob and Jim's evident skill and effort. Their unique act really hits the spot on many levels with excellent timing and well-conceived and structured material throughout the hour-long show.
Bob and Jim come across as a pair of loveable and roguish scamps, kicking off with some light teasing of the audience. This interaction proves their expertise and the quality of the characters they have created while endearing themselves to the crowd. The duo continues with one of many highlights of the night - a song about Bob's lost gnome. It might be tame and good natured but so what, it exemplifies much of what makes this show so successful, it is unique, the song is not too long, the writing is top notch and most of all it is very funny. Throughout the act they maintain an energy and pace which ensures the crowd is kept engaged, whether by participating in Stroke It Gently or delighting in the liberally scattered puns and double entendres.
The one lull in the laughs came during a song about the difference between pipes and tubes - I'm making it sound a lot duller than it is - which had the audience looking slightly perplexed as Bob and Jim danced in synchronised routine dressed up in what I can only guess were children's play tunnels. The song invokes some laughs at the beginning but is slightly overlong and seems a bit weaker than the rest of the material. However, even this hiccup displays an inventiveness and range of ideas and needless to say, they bring the quality and pace straight back up as they leave the stage and their evil nemeses, Barry and Martin, come on to ruin Bob and Jim's good name. This device works fantastically as it allows them to do some slightly ruder material and change the tone of the show for a while. Again, they know just how long to let the evil pair have the stage, proving how well the show is directed and the quality of the material.
I think the main criticism of the show is that it is on at entirely the wrong time. Unfortunately 10:10pm is not a good slot at the Underbelly with a host of other top acts on concurrently. If I am being honest, I believe that Modern Urges would greatly benefit from an early evening slot. Bob and Jim's humour is fairly gentle and good natured and, if the reaction of the two slightly younger people in the audience is anything to go by, could be enjoyed greatly by a broader age range if it was on earlier.
Regardless of this, an hour in Bob and Jim's company is the perfect antidote to this grey Scottish summer - their fast paced character comedy is truly inspired and will have you realising your full range of laughs, from hearty chuckles to gleeful titters. What is most refreshing about the act is just how unique it is. The Fringe is awash with earnest young comedians regaling crowds with stories of their lives and relationships. These shows are fine but ten a penny. If you want something with some proper belly laughs and a real sense of fun then I suggest you check out this duo's Modern Urges.