Matt Roper
Wilfredo: Erecto!
Music
11:30pm (1 hour)
4-15 & 17-28 Aug 2011
10.50
This is a 2011 show that has now finished.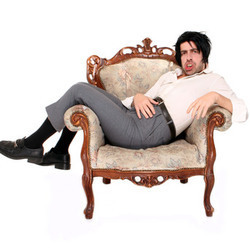 Show details
Music starring Matt Roper performed on the following days in August 2011...
Mon
Tue
Wed
Thu
Fri
Sat
Sun
03
4
5
6
7
8
9
10
11
12
13
14
15
16
17
18
19
20
21
22
23
24
25
26
27
28
29
30
31
1
2
Venue details
An emotional musical journey with the magnificent singing superstar Wilfredo. Darling of the UK cabaret scene, Wilfredo delights and titillates as El Nio de Granada (The Boy from Granada), a Mediterranean pop god dripping with raw sex appeal that men admire and women desire. Wilfredo's unique twist on hits past and present plus original autobiographical masterpieces have won him countless fans including the coveted Golden Sphincter Award (Benidorm International Song Festival). His multi-platinum albums include 'El Chico En El Toro (The Boy on the Bull) and Slo Para Las Damas (Only for the Ladies).
Share this show
Reviews
Visitor reviews

Tim McGuinness
This show is genius. This guy will be the new Steve Coogan and I expect to see him on TV real soon... Wilfredo is charming and a believable character with everyone who watched it ending up in stitches at his hilarious songs and skits. Definitley a five star show. Go and see while you can!
crazyforbellylaughs
Utterly brilliant.