Jarlath Regan
Jarlath Regan - Shock and Ahhh!
Stand-up
7pm (1 hour)
3-15 & 17-29 Aug 2011
8.50
This is a 2011 show that has now finished.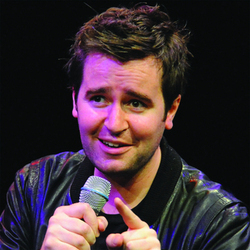 Show details
Stand-up show starring Jarlath Regan performed on the following days in August 2011...
Mon
Tue
Wed
Thu
Fri
Sat
Sun
03
4
5
6
7
8
9
10
11
12
13
14
15
16
17
18
19
20
21
22
23
24
25
26
27
28
29
30
31
1
2
Venue details
No silly promises, no stupid gimmicks, no cheap tricks. Just a 'subtle yet sublime helping of observational wit that's both intelligent and humorous without ever sounding forced' (Herald). If you're looking for 'a refreshing and hilarious change of pace' (Independent) then grab a ticket now. **** (Metro). ***** (Herald). **** (Express). ***** (Hairline.org.uk). **** (One4Review.com). ***** (BroadwayBaby.com). 'Thoroughly recommended' (Scotsman). Sold Out 2008/2009
Share this show
Reviews
Press coverage
Full press release
The return of the homemade Irish comedy hero. If Michael McIntyre's comedy career was built on a production line in a high-tech London factory, Jarlath Regan's comedy career was constructed in his own garden shed using whatever tools he could find lying about the Irish countryside.
We may not have heard too much about him over here but that's mainly because Jarlath Regan is perhaps the first in the long line of great Irish comics to have resisted relocating to the UK to ply his trade. Instead, the easy going comic chose to stay in Dublin gain a national following, produce two best-selling illustrated humour books, record his own cult hit live album and earn critical acclaim including the tag of "comedy genius" from The Irish Times. His only trips abroad have come through invitations to the world's top comedy festivals. In this his fifth pilgrimage to the Edinburgh Fringe with his new solo show Shock and Ahhh! - a nod to his material which veers from alarming to heartwarming - you can expect something a little bit special from Ireland's best kept comedy secret.
Following on from last year's hit Not So Common Sense in which Regan gave his illustrated guide to surviving modern life, his new offering is a multi-media presentation of the most shocking and hug-inducing experiences from the past year. From the continued melt-down of the Irish economy to the riveting story of his wife's high-risk pregnancy, expect another uplifting hour of on-the-money observation, audience fun and a new level of honesty from the man Dubliner Magazine called "the best Irish comedian you've never heard of!"
Some things you might not know about Jarlath Regan:
- He got his start in comedy when in 2003 Ardal O'Hanlon saw him deliver a speech in college and asked him to write material for his up-coming tour.
- In 2007 he made a hidden camera documentary for Irish television about the Fringe in which he posed as his own agent and blagged his way behind some of the Festival's velvet ropes.
- Jarlath has published two best selling illustrated books based on cartoons from his show.
- Having met in 2008, Jason Byrne invited Jarlath to support him on his national tour.
- While at college Jarlath invented an award called "The James Joyce Award" in an effort to attract well-known speakers to his campus. To date dozens of the world's biggest names have accepted the award including Noam Chomsky, Bob Geldof, Will Ferrell and Hans Blix.
- Jarlath's one to one flyering technique has become the stuff of legend. From surveying his audiences over the past four years 80% have attended specifically because he flyered them.
- Jarlath's comedy festival credits include - Montreal, Kilkenny, Melbourne, Adelaide and New Zealand.