Andrew Bird
Andrew Bird's Village Fete
Stand-up / Storytelling
7:30pm (55 mins)
4-27 Aug 2011
9.50
This is a 2011 show that has now finished.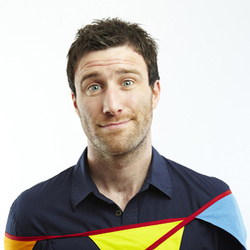 Show details
Stand-up / Storytelling starring Andrew Bird that will be performed at Gilded Balloon Teviot at 7:30pm for 55 minutes, on the following days in August 2011.
Mon
Tue
Wed
Thu
Fri
Sat
Sun
1
2
3
4
5
6
7
8
9
10
11
12
13
14
15
16
17
18
19
20
21
22
23
24
25
26
27
28
29
30
31
Venue details
Hot off his world village tour (well, Northamptonshire) stand-up comedian, Andrew Bird brings the day-to-day happenings of a small village, to a wider audience (well, Edinburgh). Country life, where the local news isn't all about the big stories, just the ridiculous little ones. 'Funny as hell' (Rhod Gilbert), 'A natural comedian' (Stage). 'Absolutely charming. A great storyteller, there is far more to him than first meets the eye. Funny, likeable and effortless' (Time Out). 'Delightful. The most I've laughed at the Fringe so far' (Edinburgh Festivals Magazine). 'Sensitive, intelligent humour' (Fest).
Share this page
Reviews
Press coverage
Full press release
CKP by arrangement with Red Comedy is proud to present Andrew Bird's Village Fete; a show all about the small societies not the 'Big One'. Embarking on a 'World Village Tour' (well, Northamptonshire) Andrew recently completed a gaggle of gigs bringing comedy to village halls and village inns, to a purpose-built pub in someone's garage and even to one in a back garden. He's now bringing the show to a wider world (well, Edinburgh).
An affectionate look at a nearby village, over the course of a year, through the eyes of its parish newsletter. Andrew Bird's Village Fete brings to life local news, where the ridiculous, the eccentric and the local gossip dwarf global and national news stories, where the importance of the church raffle and a shortage of bell-ringers far outweighs world recession and troubles in the Middle East.
Andrew grew up in a small rural town surrounded by little villages and made the move to the bright lights of the city to spread his wings. Then he got married. And now he is back in a small rural town surrounded by little villages, he has made the move to parenthood and is seeing village life through new eyes.
In a place where there is seemingly nothing to do, villagers have to make their own entertainment, from jumble sales and jamborees to 'moth trapping nights' and 'safari dinners'. In embracing his new surroundings, he asks, "Do you need to be where it's happening or can you just make it happen for yourself?"
Tour support for Rhod Gilbert in 2010 & 2011 and comedy writer on Jason Manford's Comedy Rocks, Andrew Bird has established himself as one of the best young comedians in the UK.