Alex Horne Taskmaster
Alex Horne: Taskmaster II
Variety
3pm (90 mins)
26 Aug 2011
10
This is a 2011 show that has now finished.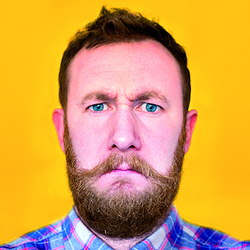 Show details
Variety starring Mark Watson, Steve Hall, Lloyd Langford, Tim Key, Josie Long, Bruce Dessau, Stuart Goldsmith, Henning Wehn, Alex Horne, Joe Wilkinson and 1 more that was performed at Gilded Balloon Teviot at 3pm for 90 minutes, on the following days in August 2011.
Mon
Tue
Wed
Thu
Fri
Sat
Sun
1
2
3
4
5
6
7
8
9
10
11
12
13
14
15
16
17
18
19
20
21
22
23
24
25
26
27
28
29
30
31
Venue details
The Ultimate Year-long Comedy Challenge Competition returns! Alex Horne is the Taskmaster. For 12 months he sets ridiculous comedians ridiculous tasks to see who's best. Last year Mike Wozniak won by sending a massive ice-structure through the post and nodding 90 times in a minute. This year Tim Key, Mark Watson, Josie Long, Henning Wehn, Stuart Goldsmith, Bruce Dessau, Dan Atkinson, Lloyd Langford, Joe Wilkinson and Steve Hall have used their wits to win his crown. With Wozniak's help, Horne presents the results. It's a one-off show, it will sell out: book early.
Share this page
Reviews
Full press release
Following the unexpected success of last year's shambles, Alex Horne presents the second Taskmaster Showdown at this year's Edinburgh Festival Fringe.
In the summer of 2009 Alex appointed himself the Taskmaster in a bid to appease his inner control freak. For the following twelve months he set a disparate group of desperate comedians increasingly ludicrous challenges which, to his delight, they set about accomplishing with both wit and vigour; Josie Long drank a pint of red wine, Tom Basden wrote a tender love song and Lloyd Langford smashed a bottle on his own head.
Ultimately, Mike Wozniak emerged victorious, mainly because he managed to send Alex a 200 foot ice sculpture of an eagle on a horse through the post and, as well as receiving a bountiful prize, he won the right to join Alex on the Taskmaster II panel. Together they are the Taskforce and together they'll be presenting the results of the subsequent competition.
This year's tasks have been even more ridiculous and the challengers yet more eager so it's set to be a cracking hour and a half of debauched rivalry. Who has donated the most expensive item to the prize fund? Who managed to cheer up Mark Oliver? And who correctly guessed the weight of Alex's baby?
Tim Key, Mark Watson, Josie Long, Henning Wehn, Stuart Goldsmith, Bruce Dessau, Dan Atkinson, Lloyd Langford, Joe Wilkinson and Steve Hall are all in the running to make off with Mike's title and, with a bit of luck, they'll all be there to make their case and, if need be, nod as many times as possible in a minute (this was the only way to split Wozniak and Tom Fitzhigam at the climax of the 2010 tournament).
To date Alex has brought seven solo shows to the Edinburgh Fringe, including Making Fish Laugh in 2003 which saw him nominated for the Perrier Best Newcomer Award and 2004's Chortle Award winning Every Body Talks. In 2010 he returned with three shows; his solo stand-up show Odds, the innovative Jazz comedy show, The Horne Section, and The Taskmaster. In addition to Taskmaster II he'll also be heading up to Edinburgh with his new 2011 solo show, Seven Year's in a Bathroom.
2010 saw Alex film his own documentary for BBC Four, The Games that Time Forgot: Cricket on Horseback and Other Forgotten Sports. His other recent credits include The Percy Edwards Showdown, Loose Ends and The Horne Section for BBC Radio 4 and The Verb, for BBC Radio 3. Alex's world record attempt to be the world's oldest man can now be followed on the Innocent sponsored website: www.longlivealex.com
---
@alexhorne
Loading tweets...