Frank Sidebottom film to star Hollywood's Michael Fassbender
Frank Sidebottom film to star Hollywood's Michael Fassbender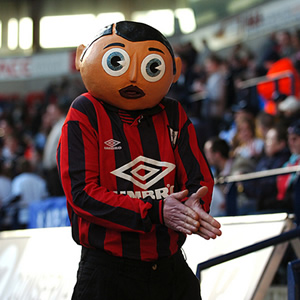 Hollywood star Michael Fassbender has signed up to star in a low-budget film partly based around the cult comic icon Frank Sidebottom.
The Irish-German actor, whose CV includes blockbuster movies such as X-Men and Prometheus, will take the lead role in Frank - a comedy inspired by Chris Sievey and his comedic alter-ego, the large-headed Frank Sidebottom.
Sidebottom was noted for his distinctive look (pictured), which was achieved by using a fibreglass model head. Sievey regularly performed in character as Sidebottom on the British comedy circuit in the 1980s and 1990s, and building up a cult following in the process.
Sievey passed away in June 2010, and fundraising is currently underway to fund a life-size £60,000 bronze statue in Timperley, Manchester, where he lived.
The new film has been written by Peter Straughan and Jon Ronson, the latter of whom spent three years as the keyboard player in Frank Sidebottom's Oh Blimey Big Band.
The project will be a fictionalised biography inspired by Sievey's career, with Fassbender as Sidebottom and Domhnall Gleeson, who played Bill Weasley in the Harry Potter film franchise, cast as the young musician who joins Frank's pop band.
Film4 describes the premise as follows: "In the strange world of the 1980s musical subculture, one man stands out as the strangest of them all. Frank tells the story of a hidden musical master and the disciple who loves him so much he might just have to destroy him. Frank - a mystery inside an enigma inside a large plastic head."
Writing on Twitter, Ronson has clarified: "Hey! The film isn't a film about Frank Sidebottom. It's fictional, inspired by Frank but also by other great mavericks like Daniel Johnston."
He added: "It's not a film about Frank Sidebottom! It's totally made up and - whilst inspired by Frank - is inspired by other people too. Daniel Johnston and Captain Beefheart are other inspirations. Bowled over that Michael Fassbender and Domhnall Gleeson are in our film."
Fassbender is currently working with Ridley Scott to make The Counselor. Filming on Frank will start in December.
Below is a news report about Sievey's death, and includes a profile of the character he created:
Share this page