People Just Do Nothing film
People Just Do Nothing head to Japan for new film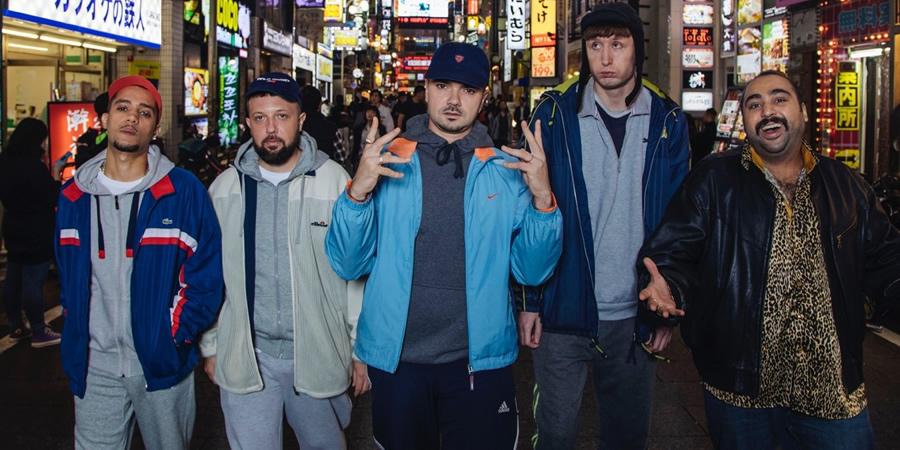 Filming is underway on People Just Do Nothing: Big In Japan, a new movie starring the characters from the hit BBC sitcom.
The film follows on from the five series of the sitcom.
The stars will film in Japan and the UK across six weeks, with the resultant film scheduled to be released in cinemas across the UK and Ireland in August 2020.
Talking about the plot, the producers say: "Since the end of their pirate radio station, life has been quiet for the Kurupt FM boys, but everything is about to change. News reaches them that one of their songs has been used on a popular game show in Japan. They've made it! Their music is reaching hundreds of thousands of people! It's finally time for them to enjoy the fame and fortune that they've always known they deserved. Chabuddy G steps excitedly back into his management role as Grindah, Beats, Steves and Decoy begin their journey to international stardom... But is Japan really ready for Kurupt FM?"
The character MC Grindah says: "Japan is the most advanced city in the world so it makes perfect sense that they would recognise our lyrical talent. We can't wait to go over there and completely destroy the music scene. In a good way."
Chabuddy G adds: " You know me, I can sell anything mate. Ice to an Eskimo, halal meat to a racist vegan... selling garage music to Japan is water off a ducks beak mate."
Allan Mustafa (MC Grindah), Hugo Chegwin (DJ Beats), Asim Chaudhry (Chabuddy G), Steve Stamp (Steves), Dan Sylvester (Decoy) and Lily Brazier (Miche) will reprise their characters, with Hitomi Souno playing Miki and Ken Yamamura as Taka.
The script has been written by Stamp and Mustafa, with additional material from Chaudhry, Chegwin and Brazier. Jack Clough, who oversaw all the TV series, will direct, with Claire Jones and Tim Sealey producing for Roughcut.
Rose Garnett and Shane Allen from the BBC say: "Kurupt FM is going global and we couldn't be happier. We just hope the world is ready."
---
For updates, click the buttons below.
Share this page