It's not often that you see a prehistoric Stone Age story set on an epic football match. It's even rarer to see such a film carried out with style, finesse and British humour. Yet that's exactly what director Nick Park of Aardman Animations - creators of Shaun The Sheep, Wallace & Gromit and Chicken Run - pulls off with his latest release, Early Man.
Early Man tells the tale of a Stone Age tribe living a simple and humble life as hunter-gatherers. Hero Dug, played by Eddie Redmayne, wants more (like, perhaps, to hunt woolly mammoth rather than rabbits?), but every time he tells the tribe his ambitions, he is put back in his place by Chief Bobnar and the rest of the group.
One day, the cavemen are affronted by heavily armoured warriors of the Bronze Age who want to pillage the tribe's valley for bronze. Led by the villainous Chief-Lord Nooth, who has a curiously French accent, the Bronze Age tribe worship coins and money and want to drive the cavemen into the Badlands.
Dug's tribe decide to settle the outcome with a football match. The problem is, the Bronze Age team are undefeated and so it's left up to renegade coach Goona, played by Maisie Williams, to whip Dug and the gang into shape.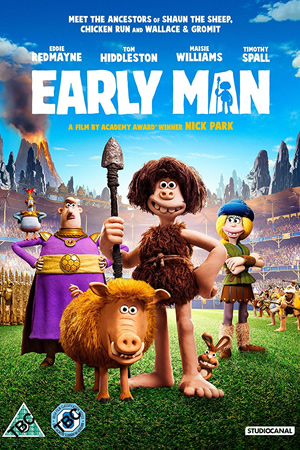 In a way, the clichés run strong throughout Early Man. You are pretty much looking at an imperial football game between the English and the French, which could be one of the World Cup 2018 matches this year if both countries make it through their respective Group stages. Yet somehow, Early Man remains charming and innocent, with the right mix of humour and intelligent storytelling to entertain viewers of all ages.
Early Man does touch on prehistoric politics and the clashes between the Stone and Bronze Age ways of life. It provide an insightful glance into the myth of Arcadia too - the possibility that we may have lost our simple (and daresay, better) way of life to progress and modern development. The film begs the question: "Are we better off building stadiums and paying taxes than we were hunting rabbits?"
But don't expect historical accuracy from Early Man, and it doesn't get serious for too long either. Dug and his caveman friends are decidedly short-witted, making for plenty of dumb moments and classic British 'he fell over' type humour. Plus, as far as we know, there never were 50ft giant ducks in prehistoric England!
Nick Park follows a straightforward structure that you might expect from Aardman films. The cavemen are met with opposition, they must improve their game to win back their land and then they compete with their Bronze Age rivals in a football match complete with slapstick humour, brilliant commentary and excellent animation action.
The impressive animation, a mix of stop-motion and digital effects, provide stunning visual appeal to this quintessentially British comedy film. Early Man is out now in UK cinemas, with international release dates coming soon. Fans of the film will be able to own it on DVD and Blu-ray later this year. Pre-order now
Published: Thursday 22nd February 2018