BBC cancels Whites, the sitcom starring Alan Davies
Tuesday 1st March 2011 @ 4:35pm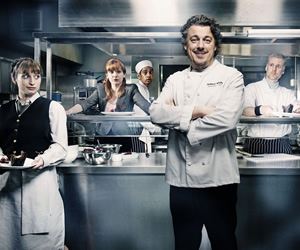 The BBC has axed Whites, the sitcom starring Alan Davies as a celebrity chef who is a little past his sell-by-date.

Written by Matt King and Oliver Lansley, Whites made its debut on BBC Two in September to an audience of 2.37 million. By the end of the six-part run, the sitcom was still attracting a healthy 1.58 million viewers, but it seems the ratings haven't convinced the BBC to give the greenlight for a second series.

Whites, which also starred Darren Boyd, Katherine Parkinson, Isy Suttie, Stephen Wight and Maggie Steed, attracted mixed reviews but with the press notably warming to the show towards the end of its run (press clippings).

It is believed the show is a casualty of the BBC Comedy department having to make spending cuts. In January the corporation announced it would be axing some of its comedy formats due to the reduced licence fee settlement. Commissioner Cheryl Taylor expressed frustration that she must cancel some shows, saying at the time: "BBC Two in particular has had a gobsmacking year, but that leaves us with a problem... I'm looking at that list of hits from last year, thinking 'Which do you not give a second chance to?'. We are in an enviable position in terms of plaudits, but an unenviable position of having to make some tough decisions." (full story).

Alan Davies posted on Twitter: "Just heard Whites was cancelled by the BBC last week. Gutted. Worst news I've had in my whole career. Thanks to all who watched the show."

Isy Suttie, who played dim waitress Kiki, also posted on the social networking website. She Tweeted: "Just heard our BBC2 series Whites has been cancelled. I am so sad. Thanks so much to everyone who watched and supported the show."
Latest News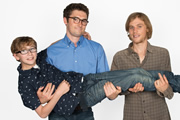 Series production has commenced on Brotherhood, Comedy Central UK's first studio audience sitcom. Johnny Flynn and Ben Ashenden star.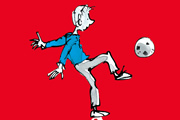 Jennifer Saunders, Tim McInnerny, Meera Syal and Steve Spiers are amongst the cast for David Walliams's festive comedy The Boy In The Dress.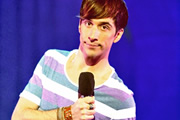 Stand-up comedian Russell Kane will appear alongside Joe Thomas in a new British rom-com film, marking his first screen acting role.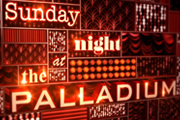 ITV will return to the London Palladium in 2015 for a second revived series of the comic variety format.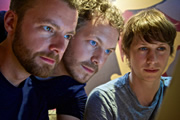 Prolific British comedy writing team The Dawson Brothers are working on The Spencer Tapes, a sitcom for NBC in America.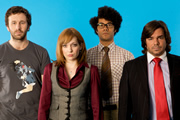 A second attempt is to be made to re-work Channel 4 sitcom The IT Crowd for American audiences. Scrubs creator Bill Lawrence is working on a NBC pilot.