Circuit Training 53: I Think it's Lee Hurst
Published October 2012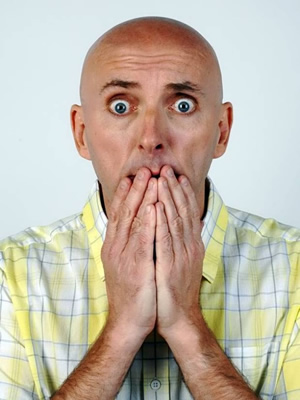 Lee Hurst is the nearest that mainstream UK comedy comes to a mysterious conspiracy figure, and the arrangements for our meeting had a hint of Tinker Tailor: be in the first carriage of an eastbound tube train, step off and meet him on a station platform at noon. Thankfully this was just because his favourite café is a bit hard to find, and I then broke the ice nicely by pouring a whole cup of hot chocolate into my lap.

Still, it was worth the suspense and soiled strides, as Hurst has been on Circuit Training's hit-list for a while. In 1995 he burst into the nation's living rooms as the sharp but likeable geezer on sports quiz They Think It's All Over, then pretty much vanished. Rumours abounded about why this hugely popular figure wasn't on TV more often, from rows with co-stars to health problems.

He does have a few of the latter, but handles them fine, and has even returned to serious, competitive running in recent months. Having made a few bob from TV he's also been running his own comedy night every week until recently, as he negotiates a complicated deal that will see the building become a hotel, with a stand-up club below. It sounds like the property version of development hell, hence Hurst is getting away from it all on his first UK tour for ten years. But let's begin with the TV years...

Most of us came across you on They Think It's All Over. How did such a little-known comic get such a prime gig?

It was [producer] Harry Thompson really. Fred MacAulay used to be the warm-up on Have I Got News For You but he couldn't do the pilot [for TTIAO] so he recommended me, I did that then Fred declared he didn't want to do HIGNFY any longer so they said to me would I like to do the warm-up on that? As soon as I did the first one they booked me for the whole series, which was great, and Harry Thompson was quite a fan of mine.

That's handy...

I think he was trying to come up with an idea, a vehicle, and then they decided to resurrect They Think It's All Over. The original line up was Des Lynam, Rory McGrath, Rory Bremner and one sports personality, it had been a radio show but it didn't work as a TV show, they shelved it, tried it again and called me in. I got paid £100 for one afternoon: for a comic, getting paid during the day, result!

We just sat in a studio, literally behind tables, it wasn't a proper set and we performed a show in front of about 60 people, most of whom had been involved in producing it. And it went very well, and Harry said to me afterwards 'what do you think about it?' and I said 'if you put that in front of a real audience it will kill.' After a few of these Harry said 'look, I want you to be in it. But nobody knows who you are, I've got a real fight on my hands.' That was on a Thursday, and on a Monday afternoon, the answer-phone message: I was on, and that was it.

You made a similar impact to Paul Merton's impact on Have I Got News For You, but a few years in you'd vanished. What happened?

My decision. I had done four series and there were things going wrong with the show. We used to record the show in about 52, 53 minutes. And out of that they would cut the 28 minutes, job done. But if you were at the recording you pretty much laughed for 53 minutes, then what was happening, the 28 minutes wasn't as funny.

So I started voicing concerns saying 'look it's not as funny as the whole recording, the rounds need changing, they're no good.' And also their booking policy, they were doing a typical TV cross-branding thing, let's bring in somebody who happens to be on our channel. They used to call them NDTs: No Discernible Talents. I kept saying 'book people who are funny, not who are famous: if you want famous book Myra Hindley.' But they dug their heels in and they kept doing this celebrity booking policy.


So relations were strained?

What went wrong was the second video. The first one was awesome, I mean it was a full sports day, it sold bazillions, I never saw it but you knew it was going to be good. Then we got to the second video, which would have been '97. The show was getting 13 million viewers or whatever, people were plaguing me 'how do I get tickets, how do I get tickets?' And we turn up to the recording of the studio part of the second video and we've only got two thirds of an audience in the room.

So we're on the back foot, they're feeling self conscious, and we went in there and it just didn't work. I just came out and I phoned up Pete my business partner and I said 'I've had enough, this is a balls-up, a complete fuck-up. It's time to call it a day.'

Obviously I went in and finished off the recording but what annoyed me was that the things I had been predicting could happen were happening. But they were happening when people were going to be parting with money for it. If it had been happening during a TV episode it wouldn't have been so bad, people might have tuned in and gone 'oh it wasn't as funny that week' but they haven't paid for it. Now people have gone off the back of the previous video...

It gives the whole thing a nasty taste?

For me it certainly did. I remember that autumn I did about 100 interviews for the tour, my video, and obviously they asked about that video, but I didn't talk about it 'cause I didn't want to sell it. Anyway I then said 'I'm leaving.' Then they called me in obviously, I think they were panicking a bit, they thought 'shit, we've now got a Christmas video to sell and he's not even in the show any more.'

So they called me in and they had the executive producer there and Harry was there, the series producer, and they listened to my concerns and they took copious notes and then I went in for Series 5 and they'd done nothing. They basically bluffed me. All they did, they brought in a round that we'd already dumped in Series 2.

What happened then? You don't strike me as a sulker...

I got my head down, charge, did what I could do, then we hit one episode and again it was all wrong. I had one more left to do, I'd already filmed the Christmas one, but I came out of the studio and I went up to Pete, and I went 'Pete, do the honours.' I didn't have to say anything else because he went to me 'do you want to sleep on it?' I said, 'no... it's done.'

They were doing the last episode two days later and they even got [cricket legend and fellow regular] Dave Gower to leave a message on my answer-phone, and that was when I nearly cracked, because he said 'come on old man', you know how Dave speaks. And even now thinking back on it, I felt a little bit like I'd let him down in that regard but I thought 'nope, I've made my point there and I'm out.' And that was it.

I remember going off it soon afterwards. A 'snidey' atmosphere developed.

I was never nasty, the atmosphere was always fun and if I did something that could be construed as nasty it was done in an affected voice. I used to say to Dave, let's try and do a week where we get no points, let's get nothing right at all, guess none of the names etc. He wouldn't do it.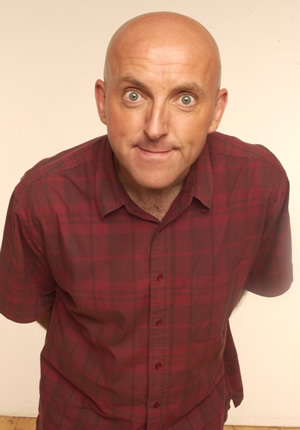 Did that burn your bridges with the BBC?

They didn't call me. If people ask me to do things I consider it, but, yeah all these panel games that have come and gone. I haven't been on Have I Got News For You again, I've never been asked to do QI, pretty much all of them, and yet I've sat and watched one or two of them now and again, and I've seen people that are on.

Without being rude, you look and you're going: 'number one, there's a lot of better people that are out there that are not being asked to do these gigs.' Being a guy that books people, you know that. 'Number two, you're not a person I would actually book to do a set.' And number three, you're thinking, 'yeah, they've never asked me have they?'

But I don't know, it wasn't the BBC I left as such, it was Talkback. So I don't know if there is a problem with me. I've got a reputation I think out there of being difficult, but I would say this: I don't think I'm unprofessional, and if you say 'we're gonna do this, this and this,' that's what I expect to see when I turn up.

How do you look back on the TV years now?

That two-year spell I just did not stop working - and partying, I wont lie about that side of it. It was all a blur, it's almost like another life. It was full-on, from '95 until 2000 really: even though I wasn't on TV anymore, I was touring.

So that enabled you to buy the club?

Yeah, I got the building in July 1997, but didn't open it until September '98. I mean, you wouldn't get a flat round here now for what I paid for it then. But I got it up and running.

So now it's becoming a hotel, with a comedy club underneath?

I initially looked at maybe doing flats, developing it myself. This has been going on for six years now. But we finally got onsite in November last year.

Have you missed running the club?

Not really, I've had a few gigs here and there, and then we looked into the tour thing, and that became a focus point. And I started running again.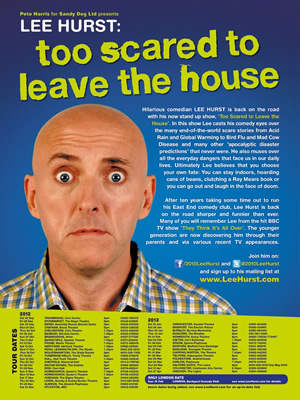 Training for the tour?

It doesn't hurt. I don't do as long as I used to do in the old days though, I kind of copied Micky [Flanagan], he does two 45 minute sets, and I did that and it's a piece of piss. I used to do 50 and an hour 40. The famous one was Newcastle City Hall where some people started to leave and I said 'excuse me, you ok, I thought this was going quite well?' And they went, 'yeah, we've gotta go, they're shutting the car park.'

People will see the title 'Too Scared to Leave the House', think about the lack of TV work and assume you've been agoraphobic.

No, no. It came about because it's 2012, and my initial thought was The End of the World Show, but I googled it and someone was already doing something similar. Then I was going to call it Whatever Happened to Acid Rain, which I liked, but I showed it to a couple of younger people, and they went 'I don't really know what that is.'

Any nerves about heading out on a big tour like this then?

Nah, I don't get nervous. People either love me or hate me. The worse they can do is hit me, and if they hit me I'll hit them back. And that's also where the running helps!

Lee Hurst is touring until Spring 2013. Visit leehurst.com for details.
Si Hawkins has been interviewing comedians since Russell Brand was a little-known MTV presenter. He also edits the front end of a popular music magazine and pontificates about football for anyone who'll put up with him. He's @SiHawkins on Twitter.