Russell Howard & Mum: US Road Trip
The trailer for Russell Howard's new TV show. In the six-part series he goes on an eye-opening trip around the USA with his mum, meeting an array of weird and wonderful characters and experiencing their unusual hobbies and obsessions. It starts on Comedy Central on Wednesday 19th October.
From USA Road Trip - Series 1. Featuring: Russell Howard, Ninette Howard.
In a new six-part series for Comedy Central, Russell Howard is taking his "twinkly eyed smasher of a mum" Ninette on an eye-opening trip around the USA, meeting an array of weird and wonderful characters and experiencing their unusual hobbies and obsessions.
Spending hours on the road together in a minivan, Russell's funny, warm and engaging relationship with his mum is put under the microscope as they discover the eccentricities of the Land of the Free, as well as having to regularly correct the peculiar local assumptions that they are in fact a couple.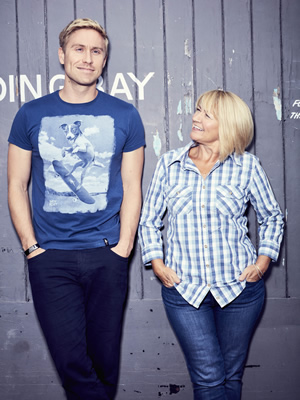 On their tour of the USA, Russell and Ninette join a community of US Armageddon 'preppers' in a sleepy Utah suburb, who are readying themselves for a future catastrophe (think financial collapse, natural disaster or even zombie apocalypse). They check out a $200 a night 'doggy hotel' where they meet the Instagram celebrity Marnie (a Shitsu with two million followers) and attend a French bulldog's luxury third birthday party in the Big Apple.
In Nevada, home to infamous Area 51, the pair hang out with alien abductees and learn how to defend themselves against a Martian attack, as well as how to communicate with extra-terrestrials, whilst in hip-hop capital Atlanta, under the supervision of a renowned graffiti artist, they attempt to infiltrate the thriving music scene.
Russell and Ninette also make a pit-stop in one of America's most haunted cities, Savannah, where they expose themselves to a host of paranormal activities - how will Russell cope staying in a room alleged to be haunted? (Clue: badly) - and venture to South Carolina to experience the touring demolition derby where the aim is simple: to Smash. Up. Every. Single. Vehicle.
On this truly unforgettable adventure, we finally get to meet Ninette after hearing so much about her in Russell's stand up - and their hysterical dialogue doesn't disappoint. During their USA trip they find themselves in truly ridiculous situations, including trying to break from an escape vehicle's trunk, battling through a house of the walking dead and getting pressured into getting tattoos, proving to be an unlikely but hilarious comic duo throughout.
'Russell Howard & Mum: USA Road Trip' will premiere on Comedy Central UK on Wednesday 19th October at 10pm.