Home Series 2
Channel 4 orders another series of Home
Due to be shown in 2020, Series 2 will answer the cliff-hanger that closed Series 1
Rufus Jones says: "I'm absolutely made up that Channel 4 have allowed us to continue charting Sami's journey"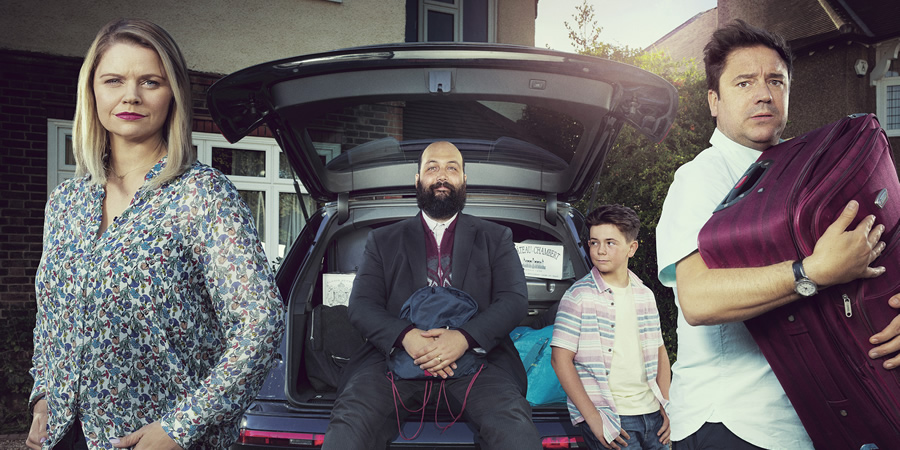 Home, the sitcom by Rufus Jones about a Syrian immigrant living with a family in Dorking, is to return to Channel 4 for a second series.
The comedy launched as an online Comedy Blaps pilot in 2017 before becoming a series, which was shown on Channel 4 in March. The episodes received much praise from both audience and press.
The sitcom ended with a cliff-hanger. Channel 4 says: "The first series followed Sami, a Syrian immigrant living with Peter, Katy and her son John after hiding in their car in Calais. From visiting Stonehenge to learning about cryptic crosswords Sami has adapted to British life, preparing for his interview with the Home Office in order to stay permanently. But did Sami pass the interview?"
Youssef Kerkour plays refugee Sami, with Rufus Jones as Peter, Rebekah Staton as Katy and Oaklee Pendergast as Katy's son John. It is produced by Adam Tandy and directed by David Sant.
Rufus Jones says: "I'm absolutely made up that Channel 4 have allowed us to continue charting Sami's journey through our quite operatically dysfunctional society. Sami will strap on his sandals and show us more of what makes our country ridiculous, tough and - just occasionally - great. That's all the information I can give you right now. The response to Series 1 has been rather overwhelming and - on a personal note - the chance to work with Adam Tandy, David Sant, Rebekah, Oaklee and Youssef again is a dream come true. Yalla!"
Adam Tandy comments: "We're delighted to start work on a new series of our comedy, especially after the first was so warmly received. Once again Peter, Katy and John will let Sami into their home to sort out his problems, their problems, everyone's problems."
Fiona McDermott, Head of Comedy at Channel 4, says: "Home is such a special show. It takes on some pretty big, often bewildering issues and makes them accessible, human and incredibly funny. That it manages to be both audacious and tender in the process speaks volumes for the deft talents of Rufus and the whole cast and crew. We couldn't be prouder to bring this timely and quietly powerful show back."
As the interviews for Series 1 explain, Jones consults on the scripts with Hassan Akkad, a man who fled his home and job as an English teacher in Damascus, to ensure they are accurate as well as funny.
Series 2 of Home will be shown on Channel 4 in 2020.
---
For updates, click the button below.
Share this page