Stath Lets Flats Series 2
Stath Lets Flats to return for Series 2
Stath Lets Flats is set to return to Channel 4 for a second series
The sitcom, created by and starring Jamie Demetriou, will be back for six new episodes later in 2019
The new series will see the lettings team having to work under Stath's arch rival Julian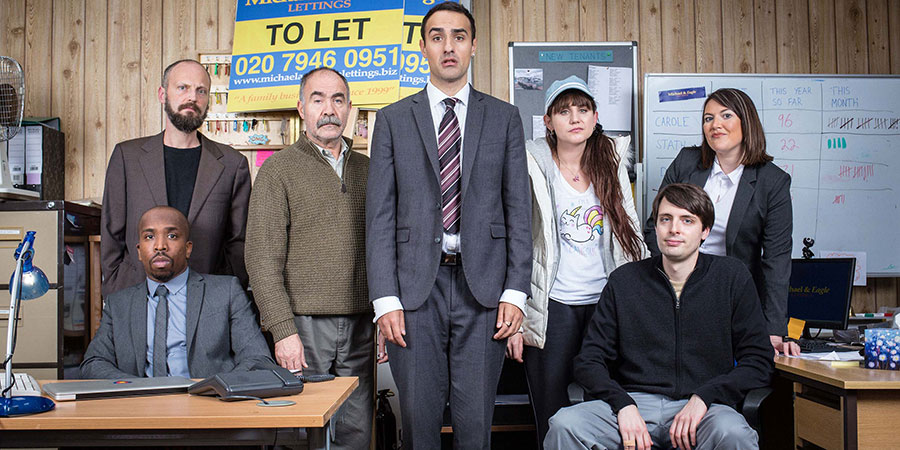 Stath Lets Flats, the Channel 4 sitcom written by and starring Jamie Demetriou, is to return for a second series.
The format started life as a Comedy Blap pilot in 2013, before becoming a series on Channel 4 in June 2018.
The show follows the staff at family-run property letting business Michael & Eagle. The comedy is built around Stath, an incompetent Greek-Cypriot lettings agent who is working for his dad and hoping to take over the business. Stath's hapless sister Sophie (played by Jamie's real-life sister Natasia Demetriou) dreams of being a professional dancer, but holds a candle for the family's favourite employee, nervous negotiator Al (Alastair Roberts).
While Stath struggles not to be outshone by Michael & Eagle's top agent, the ruthlessly ambitious Carole (Katy Wix), the company struggles against the threat of 'Smethwicks' - the slick, high-end estate agent next door.
Talking about the new series, Channel 4 says: "Having been denied the manager's position by his own father, Vasos, Stath - along with Carole and the rest of the team - is forced to work under his arch rival Julian - and re-think his life goals. His sister Sophie is also searching for a new direction after failing at Dance College and publicly denying her feelings for Al."
Jamie Demetriou comments: "Lovely to have been given a Series 2, mate. Thank you Channel 4 for the ongoing support and faith, and thank you everyone who worked on it. I would formally like to announce that series 2 MIGHT be about Stath and Peter Andre trying to make it in Miami."
Fiona McDermott, Head of Comedy at Channel 4, jokes: "We did originally say no to this, but he just kept turning up, trying to get into the building. Sometimes it's just easier to give in isn't it? In all seriousness, we're thrilled to back Jamie and this gem of a show again."
Ash Atalla, Managing Director, Roughcut TV, adds: "So happy to be going again on Stath Lets Flats. Jamie is a star. And we've all felt the pain of terrible flat viewings, so this is our revenge."
Alex Beckett, who played office worker Marcus, died in April, so his character will not be seen in the next series, however the rest of the supporting cast - which also includes Christos Stergioglou, Kiell Smith-Bynoe and Dustin Demri-Burns - will return for the next set of episodes.
In an interview with British Comedy Guide ahead of the first series, writers Jamie Demetriou and Robert Popper discussed developing the show. They said: "We sort of went insane writing it, a bit. It took a long time."
The six new episodes are due to be filmed later this year, for broadcast on Channel 4 in 2019.
---
For updates, click the button below.
Share this page