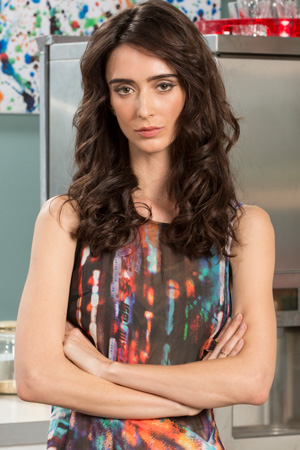 You play Anna, one of the regular models forced to share a home with Tommy. What's she like?
Well, I Live With Models is an ensemble show; there are four leads. A fish out of water guy, Tommy, is really the heart of it, and yes, I play Anna. She's a really honest character. There's no censorship with her. Everything that people dislike about her are actually incredibly rare qualities, so if she doesn't like your shoes, your voice or your face, she'll just tell you - and that's a good thing!
I think Anna probably was very sweet until the age of about 6 or 7, but since then has had to look after herself and make it on her own so has become a little bit brittle.
She's actually a bit like my enabler: sometimes after filming I'd stay in character, even for a couple of days, and it's very refreshing to be so honest.
A bit of a dark alter-ego...?
Yes! I think I'd like to have her as a friend, but only to do my dirty business. She'd be good to have on speed dial!
What does she really think of Tommy?
That he's a nobody. She's a fabulous nobody; Anna's a fabulous nobody; but Tommy really is just a nobody.
She very constantly looks down her nose at him?
Yeah, to an extent. She feels he shouldn't be where he is. He is the fish out of water. He's completely inferior to her - as is everyone else in the house! Apart from Enrique, perhaps. She has a real soft spot for Enrique as he reminds her of an almost brotherly-like close friend she used to hang out with back on the streets in London.
Tommy is very much the odd-one-out in the flat. Have you any nightmare house-sharing experiences yourself with a dysfunctional flatmate?
Yeah, I have! Quite appropriate to the show actually. I lived in Paris for a while, and wasn't making enough money on my own to pay the rent so let a model sleep on my sofa. She was from Texas and actually quite a beautiful girl. She came in, got set up and everything in my living room. It was supposed to be for about a month or so, but I come home from work one day and she's really made herself comfortable. She'd put her own motivation board up on the wall in my living room - it's basically her head, with a body made out of all different bodies, cut out from magazines to make the perfect look that she wants! And my fruit bowl has been replaced by Slim Fast bars; I remember waking up one morning and hearing a cat meowing down in the courtyard, he'd been locked in a garage. But I didn't have any food in the house, so I got one of her Slim Fast bars and fed it to this cat under the garage door!
You've done a few TV series in the past, notably with a recurring role in New Girl, but what was it like coming back and filming in the UK?
It was - well, actually I loved it. Especially working with all of the cast and crew. I didn't Google anyone before I met them, I think it's a bit impolite to Google. I'm a bit old-fashioned! So I didn't know that I was working with people who are modern icons in the British comedy world. It was such a wonderful surprise, and so great to be part of this dysfunctional family for 2 and a half months and be in such good hands. The producers, the writers - they're fan-TAS-tic.
I'm incredibly excited to be a part of this show from the beginning, from the roots up, and to really grow with the show, and hopefully we'll get a Series 2. Just so excited at the prospect. But even for Series 1, being back in London - even though it's bloody freezing - has just been really wonderful. And I love Pinewood, even though I've probably lost a stone because of a lack of good food!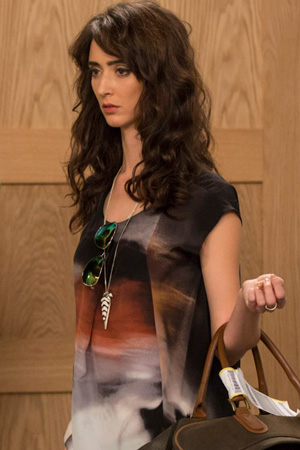 Working with a studio audience is quite different to recording New Girl too...
Yeah! I took it in my stride because I do stand-up back in LA though, so it's like the best of both worlds. There's a bit that's like doing stand-up and a bit like single cam, because you've got elements of both in the multi-cam studio format. The audiences are great, they've been great since the pilot - because they don't know the set-up, they don't know the characters because the show is new. But they've been very supportive because the writing is so good. That just helps the actors also be good, and the characters' developments over this first series, I think they've all been developed and really used in interesting ways. You know, everybody has their 'thing'. They're not just one layer. There's real stuff going on with these characters, and I think it'll be exciting to see where the writers can take that in the future.
Fairly safe to say you'd love to do a second series then?
Well who knows - but yes, I think that's the sentiment across the board. Even for the producers and the writers, not just the actors. I think we're all really excited about this. It just felt really good whilst we're filming it. Right from reading to rehearsals, shooting... it just feels like a really solid show.
I've seen a few final cuts of the episodes now, and I've laughed out loud. And I don't laugh out loud very often! And of course I already knew what was going to happen. So for me, that's like a testament to what we've created.
And how about your co-stars? Tommy has a rather loose attitude to personal hygiene compared to the others in the show, but what about in real life, does anyone have any bad habits...?
Hmmm... Not that I can really think of... But that reminds me, David, bless him, when we were shooting the promo trailer I accidentally gave him a black eye and he went down like a diva! He stood behind me, and as I swung around my elbow just caught his face and gave him a bit of a shiner on his eyelid. It swelled up and everything! He just went straight down on the floor like a diva and I thought he was joking because he made such a display of it. I think Tommy would react like that too, it was very much in character! Anna's keeping him in check, don't miss with her - she'll fuck you up!