Mathew Baynton and Emma Bunton star as Robin Hood and Maid Marian in the first episode of Series 2 of Drunk History...
Can you tell us a bit about your character in Drunk History?
Mathew: I've been playing Robin Hood, which for a historical programme is slightly iffy because no one can really agree if he genuinely existed. More of a myth than factual history. My scenes are about Robin going from being noble, meeting Maid Marian, falling in love and banishing himself to the woods and becoming a robber of the rich, and giver to the poor and reuniting with Marian. It's more the love story really.
Emma: I am playing Maid Marian, opposite Robin Hood. It's about the moment they first met.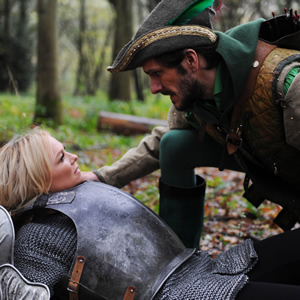 Did you enjoy getting into character?
Emma: Absolutely! I love dressing up, getting into character and wearing some fabulous outfits! Especially on this show, it's a chance to be a little bit naughty!
Mat, how was it playing opposite Emma Bunton as Maid Marian?
Mathew: It was really good fun. She's a really good performer and actor. I kind of knew that she would be from her appearances in Ab Fab. I'm ashamed to say that I haven't seen Spice World The Movie.
She's really natural and funny in front of the camera. The fun thing with this is that the performance is dictated for you and we can blame all we do on Tom Davis!
Have you seen any footage of Tom Davis narrating the story?
Emma: I have been lucky enough to know Big Tom for a quite a long time now, we've worked together before and he's one of my favourite comedians! We've also partied together before so I have seen him drunk quite a few times!
Mathew: I asked for the footage because we were sent the audio files, but I couldn't really make sense of it. When I saw Tom telling the story I understood that Jeff was the horse! When I realised there was a horse in it, I panicked because I'm strongly allergic to horses and can't breathe.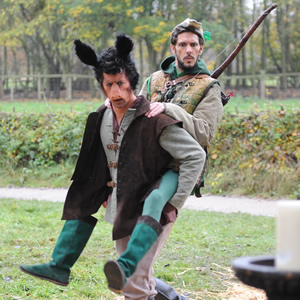 I once worked on a production and wore a costume that had previously been worn by an actor riding a horse and that was enough to give me an asthma attack and make my eyes go red. I emailed the producer and said that they may need to find another actor but they explained that the horse was going to be played by Mike Wozniak. I thought, "I've met Mike and I'm not allergic to him, so it will all be alright".
Can you hold your drink?
Emma: Yes! I think you would be surprised by how much this little blonde can take!
Mathew: No! I used to be able to drink quite a lot and drink to get drunk, but these days I have to get up so early because of my child. Genuinely, one bottle of beer is enough for me to feel pretty rough. What I realise is I probably used to sleep to 9 or 10am but not I'm up at 6am and feel a little tinge of a hangover that I used to sleep through. I quite enjoy being sober these days. Me from ten years ago hearing me say that would be utterly appalled but I don't mind it. Now, because the windows for drinking have become smaller because of baby sitters, I've moved onto hard booze and become quite a cocktail fiend. If I've got a short window for drinking, it's going to be hard straight booze.
How much have you drunk in one night?
Emma: Put it this way - I love a birthday lunch followed in quick succession with a birthday dinner!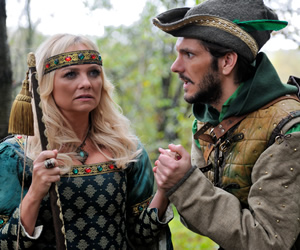 Tell us your best drunk story...
Emma: I went out to a nightclub the first time after having my second child, got a bit carried away and ended up on the dance floor with Rita Ora and Harry Styles, bustin' out my best moves!
Who would you like to have a pint with in history?
Mathew: I'd love a beer with Charles Darwin. I'd be fascinated to have a chat with him. People like him were risking being accused of heresy for uncovering scientific truths and that's a pretty fascinating thing. These days' people don't bat an eyelid.
What moment in time would you like to go back to in history?
Mathew: We've already covered my allergy to horses which, alongside inherited asthma, eczema and pretty much every allergy going, I think I would have died very young in every era. So, I'm quite pleased to be in a post-Victorian, post medical pioneer age, so I'd just go back a few decades to the sixties and have a good time!
Drunk History is on Comedy Central on Wednesdays at 10pm.