Gophers sitcom NFT auction
Exploding Heads launch sitcom that only one person will hear
Anthony Richardson and Mark Davison are releasing their audio sitcom Gophers as a non-fungible token (NFT)
NFT technology is similar to bitcoins but only allows for a single owner, so they will only ever have one listener
They hope the sale will fund a series, although no comedy has tried NFT before so admit it may "backfire horribly"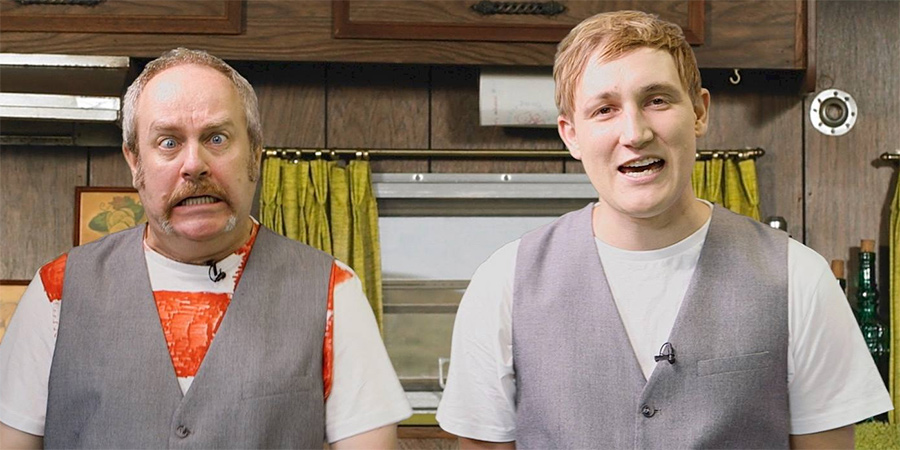 Comedy duo The Exploding Heads have launched an audio sitcom that only one person will ever hear.
Gophers is to be released as a non-fungible token (NFT) - an emerging technology that only allows for one buyer.
Anthony Richardson and Mark Davison, who have been making online sketches together as The Exploding Heads for over a decade, professionally recorded Gophers: A Pizza For Emma Bunton at the That Lot Studios recently, with script input and production assistance from David Schneider.
The resultant episode has been listed on non-fungible token auction website OpenSea, with bidding set to end on 2nd April. The technology is encoded in such a way that the file the highest bidder will receive cannot be copied or shared with anyone else.
Non-fungible tokens, which are similar to bitcoins in some respects but differ in other ways, have quickly become a web craze. Talking about the technology, Davison and Richardson explain: "NFTs are linked to the baffling world of cryptocurrency and have taken the art world by storm in the last few weeks, with collectors keen to purchase one of a kind digital works. Hip-hop artist Ill Bill sold the 'one and only' recording of his album Silk Road earlier this month and just last week the digital artist Grimes jumped on the NFT bandwagon by selling some art as an NFT. Even Twitter co-founder Jack Dorsey has listed his first ever tweet as an NFT."
Yesterday, an NFT by the artist Beeple sold for over $60 million, making it the highest NFT sale yet.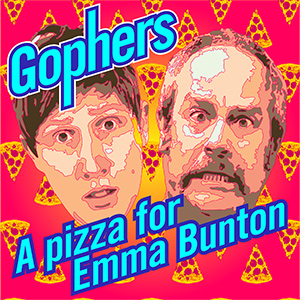 In Gophers, Anthony and Mark are odd-job men carrying out the tasks that no celebrity is willing to do. The episode being auctioned sees them frantically making and delivering a pizza for 'Emma Bunton', who is filming a nature documentary in the woods outside their house.
They tease: "Throw in a dangerously drunk work colleague and a beat boxing Dame Judi Dench, and you have the kind of anarchic comedy episode that this NFT cryptocurrency online insanity was perhaps tailor made for."
Davison and Richardson play heightened reality versions of themselves, with Lizzie Stables playing the duo's agent and their long-time director Ben Tonge voicing Drunk Brother Ben. Meanwhile Lucy Roslyn delivers a "has-to-be-heard-to-be-believed" performance as a very sweary beat-boxing Dame Judi Dench. Davison reveals: "We lost count of how many takes we had to re-do for her sections because the rest of us were ruining things through laughing."
It's an episode that took them a year to write, record, sound design and edit so why are they insisting on only ever sharing it with a single fan? Admitting their plan "could obviously backfire horribly", they say they're hoping the sale will generate the funds to allow them make a full series of the comedy.
The duo tell British Comedy Guide they currently have three more scripts at advanced draft stages, and two other scripts at an earlier stage of development. Planned plots include their characters getting rid of Fiona Bruce's rubbish, helping Sting with essential household items "after Trudi gets bored of nine hour tantric sex marathons and boots him out of the marital home", and taking Kris Akabusi's dog for a walk which involves "endlessly laying out tiny hurdles for the fluffy one to jump over".
Whilst the plan would be for the other episodes to be heard "far and wide", they stress that the only recording of the episode that's already been made will be owned by the winner of the auction. "We kind of hope that this series takes off and that the one unheard episode comes to be spoken of, years from now, in hushed tones akin to a music fan discussing a long-lost Beatles recording... maybe... we can but dream!"
Davison and Richardson elaborate: "We've been producing comedy together for ten years now and although we've enjoyed a level of success that means we can do this full time, we've always been on the more 'out there' edge of comedy commissions. So when we wrote and recorded this utterly insane audio sitcom we thought 'well, we can try and go via the traditional route to get this commissioned as a series or we can stick to our more 'punk' ethos and release it in a far more unorthodox way', which is what we ultimately decided would be a more interesting thing to do.
"The world of cryptocurrencies and NFTs is baffling and weird and it just feels right that something as batshit as Gophers gets released into the world this way. If it does well enough such that we can make the rest of the series, we'll consider that a big success though there is always the chance we will fall flat on our arses and look stupid here."
---
Share this page