Gina Yashere autobiography
Gina Yashere to publish her autobiography
Gina Yashere will publish her first book in 2021
Cack-Handed traces her life from childhood through to finding success in America
The comedian says: "I'm excited to take you guys on this journey through my crazy life"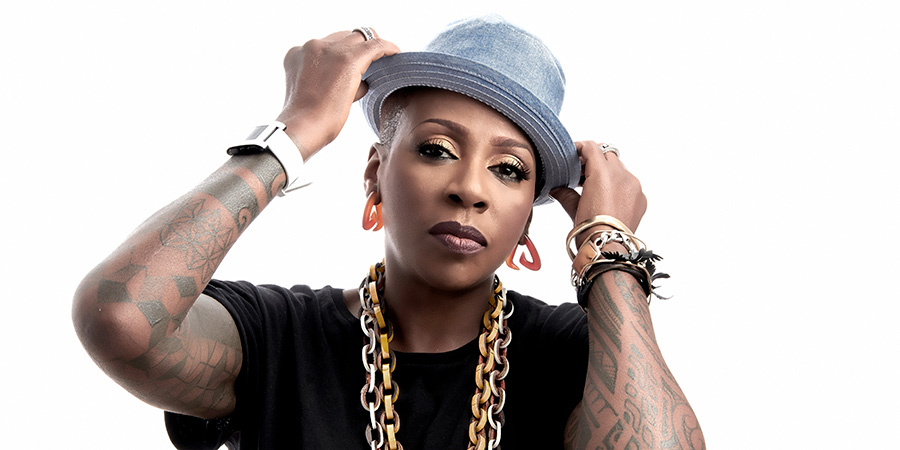 Gina Yashere has written a memoir.
Cack-Handed will be published on 8th June 2021 by Amistad, an imprint of HarperCollins.
The comedian's first book traces her life from growing up as a child of Nigerian parents in London, to enduring the racist and sexist comments of co-workers while she was a lift engineer, to fulfilling her dream of moving to the US to further her career.
"The definition of cack-handed is left-handed, which I am, and also awkward and clumsy, which I am. It also represents the unconventional track my life and career has taken," Yashere said.
"This is a book about trying, whether you succeed or not. About wanting something and going for it, despite how ridiculous, impossible, and stupid it sounds to other people. I'm excited to take you guys on this journey through my crazy life."
Frustrated by a lack of opportunities for black comics in the UK, Yashere moved to Los Angeles in 2007 and became a correspondent for satirical news staple The Daily Show, recorded three Netflix specials and co-created, writes on and appears in the CBS sitcom Bob Hearts Abishola, which returns for a second series soon.
Writing on social media at the time of the sitcom's recommission, she said: "Moved out to the US in 2007, with 2 suitcases & a dream. Only took 25 years in this business, but never too late for a dream to come true. And I didn't just dream. I PUT IN THAT WORK."
---
For updates, click the button below.
The British comedian of Nigerian heritage and co-executive producer and writer of the CBS hit series Bob Hearts Abishola chronicles her odyssey to get to America and break into Hollywood in this lively and humorous memoir.
According to family superstition, Gina Yashere was born to fulfill the dreams of her grandmother Patience. The powerful first wife of a wealthy businessman, Patience was poisoned by her jealous sister-wives and marked with a spot on her neck. From birth, Gina carried a similar birthmark - a sign that she was her grandmother's chosen heir and would fulfill Patience's dreams. Gina would learn to speak perfect English, live unfettered by men or children, work a man's job and travel the world with a free spirit.
Is she the reincarnation of her grandmother? Maybe. Gina isn't ruling anything out. In Cack-Handed, she recalls her intergenerational journey to success foretold by her grandmother and fulfilled thousands of miles from home. This hilarious memoir tells the story of how from growing up as a child of Nigerian immigrants in working class London, running from skinheads, and her overprotective Mom, Gina went on to become the first female engineer with the UK branch of Otis, the largest elevator company in the world, where she went through a baptism of fire from her racist and sexist co-workers. Not believing her life was difficult enough, she later left engineering to become a stand-up comic, appearing on numerous television shows and becoming one of the top comedians in the UK, before giving it all up to move to the US, a dream she'd had since she was six years old, watching American kids on television, riding cool bicycles, and solving crimes.
A collection of eccentric, addictive, and uproarious stories that combine family, race, gender, class and country, Cack-Handed reveals how Gina's unconventional upbringing became the foundation of her successful career as an international comedian.
First published: Tuesday 8th June 2021
It looks like you're in the US? Fear not! Almost everything can still be ordered.
Amazon UK
deliver internationally,
Amazon.com
carries many items separately, or you can look out for US/Canadian flags on our product listings for direct links.
If ordering from a UK store, please note that you are in Region 1 (DVD)/Region A (Blu-ray), whilst the UK is in Region 2/B, respectively. This means that many - but by no means all - may fail to play. Look for products marked "Region free", "All regions", "Region 0" or "Multi-region". Blu-rays may also be marked "Region A/B/C", "Region free", or variations thereof. You may also check whether your DVD/Blu-ray player supports multi-region playback (also referred to as "region free"), or whether it can be set to do so. There should, of course, be no problems with books, CDs, or other physical items.
More advice & help on importing
Share this page