Leicester fundraising poster
Comedians donate jokes to fundraising poster
Comedians have donated jokes to a poster that aims to raise funds for Leicester Comedy Festival
Priced £37.50 + P&P, the money raised will go towards community projects during the festival
Artist Barry D Bulsara says: "This has been a great project to work on"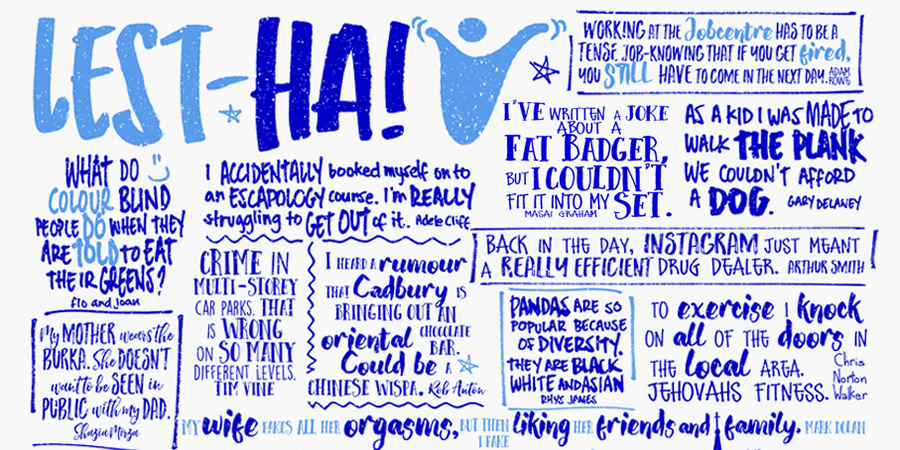 Comedians including Romesh Ranganathan, Milton Jones, Shazia Mirza, Flo & Joan, Tim Vine and Ed Byrne are amongst the performers who have donated their jokes to be included on an exclusive hand pulled screen printed poster on sale to raise money for Leicester Comedy Festival.
The limited edition poster has been designed and hand printed by artist Barry D Bulsara who met festival director Geoff Rowe at a recent exhibition at Leicester Print Workshop.
The poster - titled Lest-Ha! - features jokes from comedians who regularly perform at the annual festival.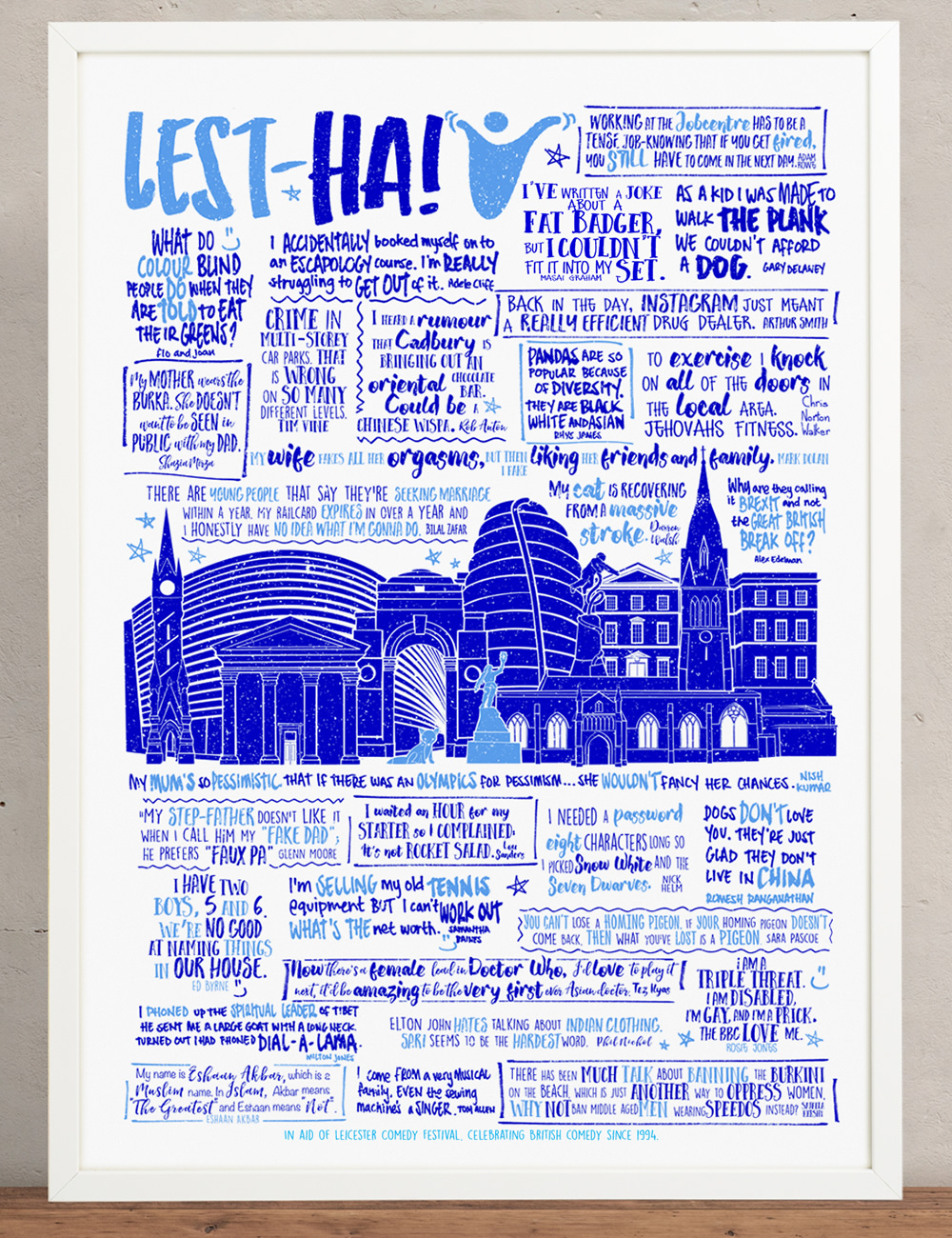 Sample oneliners appearing on the poster include:
"Back in the day, Instagram just meant a really efficient drug dealer" - Arthur Smith
"I accidentally booked myself on to an escapology course. I'm really struggling to get out of it" - Adele Cliff
"As a kid I was made to walk the plank. We couldn't afford a dog" - Gary Delaney
"My step-father doesn't like it when I call him 'fake dad'; he prefers 'faux pa'" - Glenn Moore
The poster, priced £37.50 + postage and packing, will be on sale from 30th October via comedy-festival.co.uk
There will be a specific programme of events aimed at improving the mental health and wellbeing of people visiting Leicester Comedy Festival 2020. Sales of the limited edition poster are expected to raise over £7,500, which will be used to increase the number of community projects during the festival.
Geoff Rowe says: "I met Barry whilst visiting one of his recent exhibitions and was blown away with his work. We got chatting and I asked him if he would be willing to work with us to produce an exclusive print celebrating Leicester Comedy Festival and the comedians who have become huge friends of the annual event. We're hugely grateful to Barry and all the comedians who have donated their jokes, and their support of the work we do."
Barry D Bulsara (pictured) comments: "This has been a great project to work on and I'm delighted to be able to support Leicester Comedy Festival and the great work they do each year. Comedy is a great way on engaging people and the festival is a great showcase of British comedy, which attracts people from across the UK. If my poster can help sustain and extend the work of Big Difference Company, then that has to be a good thing."
Share this page