The Punning Man interview
Getting started in comedy is a tricky thing. But with a mix of hard work, determination and a dollop of talent thrown in for good measure, it's possible to make all those dreams happen for yourself.
Don't believe me? Take a look at Sean Leahy.
Known as The Punning Man on Twitter, Sean started his comedy career by, well, making puns on Twitter.
From there he's grown to over 45,000 followers. He was named one of the top 50 accounts to follow on Twitter by Playboy. And he's just launching his first ever book.
We sat down with him to work out how he made it all happen.
So how did it all start?
The whole 'thepunningman' thing started out because I collected puns I found in the wild. Shop fronts, newspaper headlines, that sort of thing.
Then I started getting sent them. Texts, emails, tagged on Facebook in photos I wasn't even in. I got a few a day and I thought it'd be fun to share them, so I had a blog where I collated them all. Then Twitter got invented and I had the blog posts spitting out on to there too.
After a while I thought I'd give writing them a crack, and it's all spun on from there.
I was lucky to be on it at a crest of a wave where joke writing on Twitter was a big thing, and people liked a few of my jokes, some of which got picked up by people with a large following.
What were you doing as a job at this point?
I was and still am a graphic designer, which meant I've had the tools at my disposal to make picture jokes look a lot more polished than the punchline might deserve. A lot of the gags followers know me for are Photoshop made.
What about stand-up, ever given that a go?
I have a couple of times, yes.
There's a regular night in London called Pun Run; the baby of a great comic, Bec Hill. They did a Twitter special where they invited people from Twitter who'd not done stand-up before, and I was lucky enough to be chosen.
It was absolutely frightening, but one of the most rewarding experiences I've ever had.
Have you got any other comedy writing under your belt?
I've been plugging away at some scripts for an online cartoon recently, which has been really interesting. There's a couple of other things on the horizon, but they're not fully formed yet.
You're just releasing a children's book - tell us about that.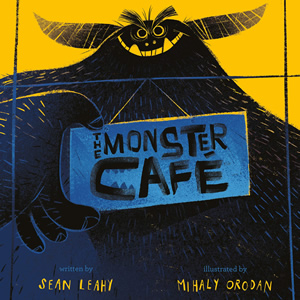 It's called The Monster Café. It's a picture book for under 7s, about boy who wants to visit a new café in town which appears to be entirely run by monsters. Trouble is, he's got to convince his family that this isn't a terrible idea.
I don't want to spoil the story for any toddlers reading, but from there it deals with pre-conceptions and promoting inclusivity, all via various-sized creatures.
What inspired it?
I wanted to try my hand at longer form writing beyond the (then) 140 character limit that Twitter kept you to.
Having two children myself meant that I've read a LOT of kids books, and while there are loads of utterly brilliant and beautiful ones (check out Kate Beaton, Benji Davies, Lizzy Stewart, Jon Klassen, Sara Ogilvie, Olaf Falafel and Chris Haughton for starters), there are many, many that are just complete and utter turgid dog eggs.
It's trite to say "Christ, I could do better than that", but I think I have, and hopefully the kids agree.
What was the publishing process like?
My publisher, Unbound, were magnificent. I'm almost certain this book would still be living between the pages of a notebook had they not afforded me the opportunity. They're really interesting, in that they crowdfund all of their books, which allows the authors total creative freedom.
As designers, both the illustrator Mihaly Orodan (Mike to his friends) and I wanted to be able to lay the book out ourselves, and we were able to do that and make all the decisions about how it should look. Once the money was raised we delivered the finished book to them and they made sure it was just as we envisioned it.
It's taken a while, but we're really pleased with it.
Any plans for more books?
I have another couple of children's books planned, which have nothing to do with monsters or cafés.
There's the bones of a comedy novel knocking about in my head too, but that's jostling for position with what colour I'm going to paint the lounge and various Seinfeld quotes.
What's your next big career goal?
I'd love to do more writing, but my boss will probably read this, so I'm lucky enough to be in a job I really love, thanks Doug.
Any tips for those wanting to follow in your footsteps?
Don't give yourself a cheap Twitter handle that you'll ultimately regret once it's too late to change it.