Hit novel 'Apocalypse Next Tuesday' comes to the UK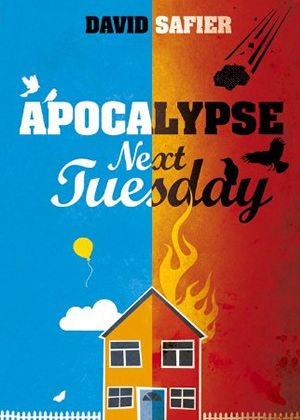 Apocalypse Next Tuesday, the hit comedy novel from bestselling German author David Safier, has been translated into English and thus is now available in British shops.
Labelled "a wonderfully witty romp" and described as "Life Of Brian meets Notting Hill", the story focuses on how the course of true love never runs smoothly, especially when the Apocalypse gets in the way.
David Safier's novels have sold over 2 million copies worldwide, with Apocalypse Next Tuesday featuring on the Der Spiegel bestseller list for 19 weeks.
The publishers explain the story as follows: "Cataclysmic events are nigh in Malente, Germany. Satan (a dead ringer for George Clooney) is on the prowl, recruiting horsemen for next week's Armageddon - and in a boring, provincial place like this, he's apparently spoiled for choice. One might hope that the Archangel Gabriel would be some help since he's in town, but he's too busy with a tantric sex marathon to deliver anyone from evil.
"Meanwhile gentle, sandal-wearing carpenter Joshua encounters, by chance, washed-up thirtysomething singleton Marie. She's hit a career dead-end, and her dad's gone and shacked up with some sort of Eastern European nymphomaniac. So when handsome Joshua comes round to work on the roof, she realises she has nothing to lose by asking him out. But what of his divinely-appointed task?
"The Apocalypse is scheduled for Tuesday. Things are looking grim."
The first reviews are positive. Edinburgh Book Review notes the novel is "Engaging and clever", We Love This Book add "A good fun read... but Safier's novel also has a serious heart", whilst Love Reading's review says: "Wacky it certainly is and the most enormous fun. Highly recommended."
Apocalypse Next Tuesday has also been described as "provocative and blasphemous, but with surprising meditations on the nature of faith, free will and human nature." It's now available in all good bookshops, and online too including on Amazon
Use the code 'APOCALYPSE 25' on the publisher's website to get 25% off the £8.99 paperback. hesperuspress.com
David Safier interview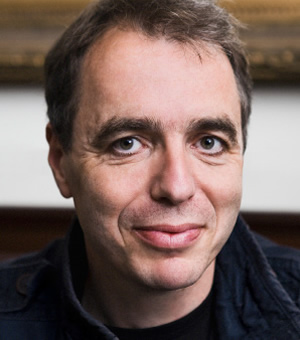 Here's a chat with author David Safier...
Hi David. What can you tell us about your new book Apocalypse Next Tuesday?
It is a romantic comedy featuring Jesus. Marie is a pretty normal girl: she does not really believe in God, only goes to church at Christmas and falls in love with the wrong men. She meets a carpenter who is totally different from all the other men she has encountered before. This guy is kind, listens to her and is interested in people other than himself. There is only one problem: on the first date he tells Marie that he is Jesus. At first she thinks that this carpenter is one tool short of a toolbox, but then she realises: he really is Jesus, and he has come back to earth for the Apocalypse!
Can you tell us more about Joshua and Marie...
At first they really seem to be a mismatch: on one hand you have got a flawed, normal girl, who does not believe in religion and on the other hand you have got the Son of God. But Marie shows Jesus what it means to be human, what it means to be a flawed and she shows him that love is more important than all rules. In return, Jesus shows her what kind of potential she has as a human being. And of course, these two find themselves in a lot of hilarious situations.
Why did you compare Satan to George Clooney in the book?
I did not really compare them. But Satan roams the earth and can choose his form. And he chooses to look like George Clooney. Who wouldn't? I most certainly would.
The book has been compared to Life Of Brian and Notting Hill - how does this make you feel?
I love both films. However, Apocalypse Next Tuesday isn't a blasphemous story - in fact many Christians love the book as well - it is a romantic comedy. So it is more in the vein of Notting Hill.
You have been compared to the writers Jasper Fforde and Joseph Heller, so are you fans of their work?
Funny that you ask, just last week I dusted off my old edition of God Knows by Joseph Heller which I last read when I was 22. I am definitely a fan of Heller. And I love the Thursday Next novels by Fforde as well.
How does the process of screenwriting and novel writing differ for you, and do you have a preference?
A novel gives you a lot of freedom. As a novel writer I do not have to have an eye on a production budget, I can write whatever I want. I can transform Satan into George Clooney, let Marie talk to God, have four Apocalyptic Horsemen on flying horses, etc. I can let my imagination run wild without any boundaries. But what I love most about writing a novel is that two imaginations come together to form the final experience: mine and the reader's.
What is next for you?
Right now I have my first serious bestseller in German bookstores. It is an intense book about the Warsaw Ghetto Uprising, which got a fantastic response here in Germany and will come out in many European, South American and Asian countries next year. I've just come back from all of the promotion and PR work and have started writing the next novel.
---
Apocalypse Next Tuesday on Amazon
Apocalypse Next Tuesday on hesperuspress.com (25% off with code 'APOCALYPSE 25')