Kerry Godliman and Marcus Brigstocke star in The Wilsons Save The World, Radio 4's new sitcom about a family trying to live "a cleaner, greener, serener life". Given the subject matter we thought we'd find out how 'green' they are in real life...
If you had to do just one of the following for a more ethical life, would you choose: (a) not flushing the toilet; (b) taking one minute showers for the rest of time; or (c) never being able to board an airplane again?
Kerry: I'd happily have short showers and never flush again if it meant I could still go on foreign holidays.
Marcus: One minute showers... and I hate it!
What one bit of advice would you give to those wanting to live a more environmentally friendly life?
Kerry: Don't eat meat.
Marcus: The advice I'd give is that trying is good. Don't let perfect be the enemy of good. Each small thing you do makes a difference. In terms of individual actions, seek to deny your custom to corporations that behave recklessly.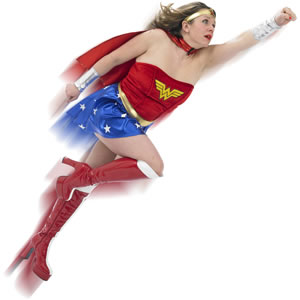 If you were called upon to save the world, what would be your superpower?
Kerry: I'd love the power to stick with a cause. I know that certain choices I'm making are bad for the common good, but I can't seem to help myself. I know I should boycott tax dodgers, drive my car less, sign a petition a day, not eat crap, but I'm saturated. I'm so overwhelmed by causes that I can't stick to one of them.
Marcus: I'd be Empathy Man! My power would be to be able to make people experience strong waves of empathy for other people's experience. Boom! Empathy Man strikes again!
Who is most like their character in real life?
Marcus: I am. Mike is very very (tragically) similar to me. I like him.
Kerry: I'm not sure if Marcus is like his character. I think he'd like to be. I think we'd both like to be a bit more like our characters. They're good people, doing their best.
Who is most likely to not recycle their milk carton?
Kerry: Oh, neither of us would not recycle a milk carton. That's too easy to fail at. It's saving bees and not buying fast fashion where I fail. Recycling is easy.
Marcus: Milk comes in cartons?! I don't know. I recycle my milk containers.
Who is the funniest off stage?
Marcus: Kerry is!
Kerry: The whole cast is very funny off stage. I have enjoyed witnessing Marcus' mounting panic as the opening of Barnum looms. He's got to be able to juggle and tight rope walk while acting and singing. He's spun stress into comedy very well.
Who is most likely to demand glamping over camping?
Kerry: I love camping and glamping. Glamping is just wanky camping. I've got a campervan, is that glamping? I think Marcus has one too, so we're both glamper wankers.
Marcus: Me. All day long. I had a motorhome to make camping at festivals tolerable.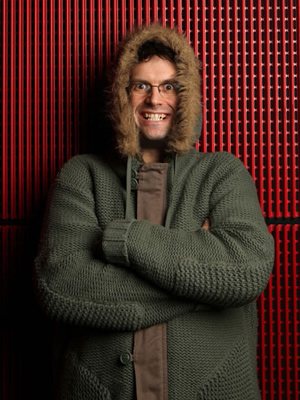 Who has the smaller carbon footprint?
Kerry: I don't know. I'll say me, just because I literally have an actual smaller footprint.
Marcus: I would guess Kerry does. I dread to think how big my carbon footprint it these days. I try... but not hard enough.
Who takes the longest to get ready before a show?
Kerry: Neither of us takes very long. There's not much down time on the recording day. But, you don't take long to get ready for radio. You can do it in your pants.
Marcus: I don't know. I don't take much time. Other that writing, I tend to just go on and do it.
Who would be the first to say sorry after an argument?
Marcus: Me. Unless it's Kerry. Sorry.
Kerry: I suspect it would be Marcus. I'm not good at saying sorry. I'm quite stubborn. I don't really believe in star signs, but have been told I'm a typical Scorpio.
Who would be most likely to start the argument?
Marcus: Kerry!
Kerry: I don't think either of us would start an argument. Stand-up comedians don't need to start arguments, they vent all the spleen on stage.
Who has the biggest compost heap?
Kerry: Me. I've got three compost heaps. One in my garden and two at my allotment. My dad gives me lectures resembling TED Talks on the secrets to good compost.
Marcus: I only have a pile of teabags... that's it.
What is the most weird and wonderful thing you've discovered about each other?
Kerry: Well, now we all know that Marcus Brigstocke can juggle and tightrope walk while acting and singing... or at least I hope he can, Barnum opens in a week.
Marcus: I caught Kerry swimming in the Tooting Lido in October!!! She's a bloody hero!