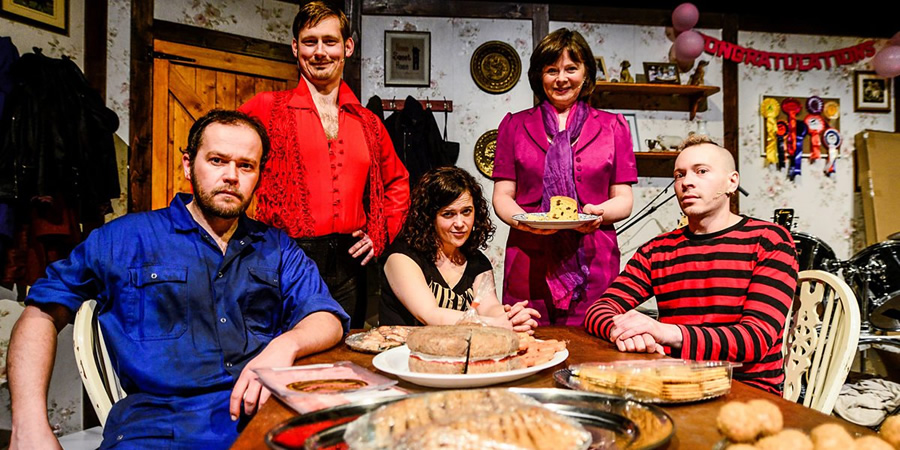 Genre

Sitcom

Broadcast

Channel

Episodes

Starring

Writers

Director

Producers
The Harri-Parris' Radio Show is a sitcom set in rural Wales - with musical interludes - based on the live shows of the same name.
The Harri-Parris are a west Walian farming family. The dysfunctional group love nothing more than having visitors round. Anni, the farm's only daughter, falls in love with a vegetarian indie musician boyfriend from England and the show charts their relationship.
The theme song explains the premise well: "If you go down to West Wales you'll find a farming family who love having visitors to entertain, in their own unique west Walian way. They love to sing. They love to dance. They'll try to feed you up. So come on in, make yourselves at home... it's The Harri-Parris' Radio Show."
The BBC website incorrectly labels Series 2 as also being Series 1.
Production company

Also known as

The Harri-Parris' Christmas Special (Other official name)

Laugh track

Live audience
Broadcast details
First broadcast

Saturday 15th August 2015 on BBC Radio Wales at 1:04pm

Last new broadcast

Friday 22nd December 2017 on BBC Radio Wales at 6:30pm

Length of episodes

30 minutes

Upcoming repeats

Series 1 Episode 3: Monday at 11:30pm on Radio 4 Extra
Website links