John Finnemore creates new Radio 4 series
John Finnemore creates new Radio 4 series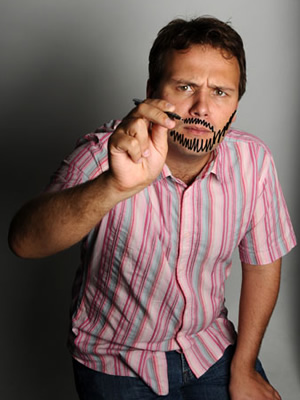 John Finnemore is working on a new comedy series for Radio 4.
The creator of Cabin Pressure and John Finnemore's Souvenir Programme is now working on The John Finnemore Project.
The new shows will consist of six standalone half-hour comedies. Each one will be a self-contained story, with its own cast. There is no linking theme between the episodes, although the station does jokingly say "all strictly adhere to the overarching theme of 'ideas John has had for this series'."
Talking about the episodes, the BBC explains: "They range from hot-desking office workers attempting to conduct a romance at the rate of four minutes a day, to a band of explorers beginning to wonder if they'll ever reach Australia's Great Inland Sea.
"Others feature characters ranging from a charming burglar to a charmless bath saleswoman; from the worst teacher of English Conversation in contemporary Germany to the best imaginer of tigers in 1950s Britain."
The creator says: "If there's one thing they all have in common... I'll be very surprised. And a bit annoyed."
This new series comes off the back of the success of his two previous shows for Radio 4. Cabin Pressure, a comedy about a tiny airline, has been one of the station's biggest sitcom hits for years. Starring Benedict Cumberbatch, Roger Allam and Stephanie Cole, the 27 episodes have been listened to by millions around the world. As a measure of its popularity, the BBC revealed 22,800 fans applied for the few hundred tickets available to the recording of the final episodes. The programme was voted Comedy Of The Year in the Comedy.co.uk Awards 2014.
The sketch show John Finnemore's Souvenir Programme has also been very successful. The programme has been critically acclaimed and won a number of awards. It has so far run for four series on Radio 4, with another in the works.
Fans wishing to discover Finnemore's previous shows can, at the time of writing, catch-up via BBC iPlayer. John Finnemore's Souvenir Programme is being repeated on Radio 4 on Wednesdays at 11:30am, with Cabin Pressure repeating on Radio 4 Extra on Wednesdays at 10:30pm.
The John Finnemore Project is being overseen by David Tyler at Pozzitive Productions, the same producer who worked with Finnemore on Cabin Pressure.
The John Finnemore Project is scheduled to be broadcast in the 11:30am slot on Radio 4 from Friday 16th October 2015.
Share this page