Fags, Mags And Bags is back on Radio 4 for a sixth series. Here, writers and stars Sanjeev Kohli (aka Ramesh) and Donald Mcleary (aka Dave) talk to BCG about the show...
For those who haven't discovered the show before, could we ask you to start off by explaining what Fags, Mags And Bags is about...
Donald: It's a warm, friendly corner shop comedy set in the world not as it is, but as it should be.
Sanjeev: It's about a family that run a newsagents and confectioners called Fags Mags and Bags. Ramesh is the dad, Sanjay and Alok are the children, and Dave is more or less the mum. Ramesh and Dave are very friendly and community-minded and, because they run a shop, they know everyone's business. But they use this knowledge for good.
Sanjay is a surly arse of a perma-teenager, while Alok would like to "next level" the shop business-wise with his failed Dragons' Den ideas e.g. selling crisps online, and hover-shoes.
Add to this the other shopkeepers on the street - Mutton Jeff the butcher, Bra Jeff the bra-monger, Hilly Bewerdine who runs the pet shop - plus the myriad of customers including Bishop Briggs, Mrs Birkett, Mr Hepworth, Keenan's mum, and Ramesh's love interest Malcolm (who is a lady) and that's about it.
It's been a number of years since the last series. Why the gap?
Donny: They asked us! We were always happy to do more but were only asked about a new series last year. Thank you [Radio 4 commissioner] Sioned!
Sanj: Nothing to do with us guvnor... they rather pleasingly changed their minds.
Was it easy to get back into the 'groove' of writing the show?
Sanj: Thankfully we managed to de-rust the gibberish generating machine, and were able to locate the on-switch (which had been obscured by moss). Seriously though, we have a LOT of affection for the show and the voices were very much still in our heads and our hearts.
Donny: Yes. We were bursting with new ideas and stupid crisp names. Sanj and I have written and performed the best part of 20 comedy series for BBC Scotland and Radio 4 together now, so we have no trouble at all.
What can we expect from the new episodes?
Sanj: The beauty of the set-up is that, because it's a shop, we can introduce new characters willy-nilly. So this series will see the lovely Julia Deakin playing a homeless woman who visits Malcolm's new food bank, but is frankly pernickety about the fare on offer. And Mutton Jeff, the local butcher will embark on a romance... with a vegan.
Donny: Sadly the rise and rise of food banks had to be addressed - times are hard for the Lenzidens, which has made them closer than ever. There's more Bishop Briggs and Mrs Birkett because we love Michael Redmond and Stewart Cairns. Also romance for Ramesh and a big change for one character. And lots of made up confectionary.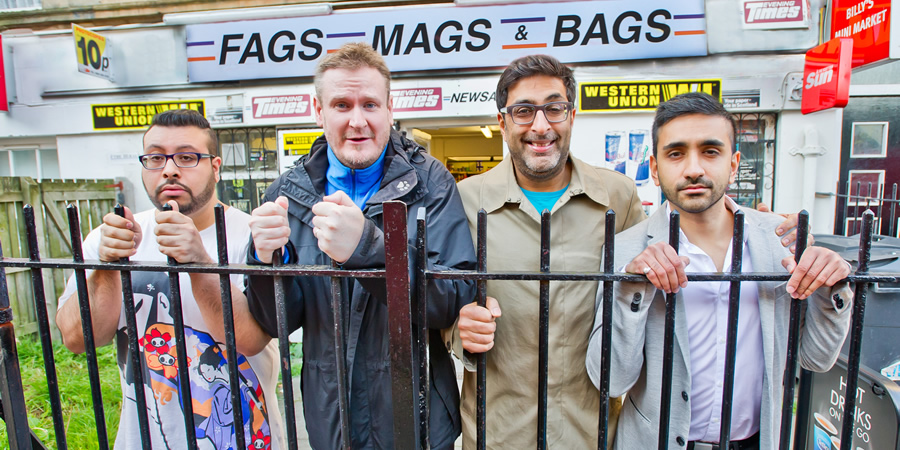 The shop is set in Lenzie just outside Glasgow. Is the location important to you and the comedy in the show, or could it essentially be transplanted to any other British town or city?
Donny: Real Lenzie isn't much like our Lenzie, it's a bit more well to do, and I certainly couldn't afford to buy a house there. We set it near Glasgow cos that's where we're both from, but like every major city, we have people from every corner of the globe here.
Sanj: We wanted it to be 'Glasgow, but not Glasgow'. Glasgow, apart from the Bill Forsyth offerings (which we adore), tends to be portrayed as a bit gritty, violent and heroiney. We chose Lenzie as a satellite town, a bit more affluent where people (on the surface) are nicer to each other. And although we'd like to think the humour is universal, occasionally the Scottish vernacular is invoked. Mostly to annoy The Archers massive.
Have you ever had any feedback from real shop owners about the programme?
Sanj: The only feedback we've received is "yes we sell fags, yes we sell mags, but we don't sell bags - why have you called it 'Fags, Mags and Bags'? You CRETINS". But of course that has changed now, and even the most diaphanous deck-chair coloured bags now cost 5p.
Donny: I'm regularly told to "fuck off" by my local tobacconist.
After Series 5 was made for Radio 4, you filmed a live script reading as part of its TV development. Do you believe the programme would make for an ideal TV sitcom?
Donny: We're paid by Radio 4 to make them a radio show and are completely focused on making the strongest and most densely packed radio show we possibly can. TV would be great, but it'd take some balls from someone: it's effectively people in a small badly lit room talking, and all the better for that.
Sanj: Half the battle - ok, maybe 23% of the battle, and it's not really a battle - of securing an audience for a sitcom is the 'sit' bit of the 'com', i.e. the situation. With a newsagents/confectioners though, the battle - which isn't really a battle - is already won. EVERYONE feels at home in this scenario. They know where the wall of crisps is, where the chocolate stanchion is, where the cardousel (spinning rack of 99p greetings cards) is, where the black bags/toilet ducks are. And because of the sweets and the crisps, people retain a child-like affection for the corner shop. So even before you've seen the characters, you feel at home. And we really want to showcase the amazing ensemble cast we've assembled over the years.
What is next for you?
Sanj: Can't speak for Donny, but the whole Jeff Goldblum lookalike thing shows no signs of abating. It is both lucrative and fulfilling.
Donny: I'm off to New Zealand.
Fags, Mags And Bags is on Radio 4 on Mondays at 11:30am, and iPlayer any time after that.