Strangness In Space

Strangeness In Space
What would happen if Sophie, the manager of a NASA Space Centre gift shop, and Trev and Simon, two idiots claiming to be a 1980s styled synth pop duo called Pink Custard, were thrown together with a computer robot called LEMON on board a damaged space craft, lost in a distant universe, orbiting Planet Mirth? Strangeness In Space is a sci-fi sitcom written by and starring Saturday morning TV legends Trev & Simon. The show is entirely crowdfunded - Find out how to get involved
Published: 31st July 2015. Length: 25 mins. Size: 11.7mb
Trev and Simon and Sophie are stranded in space, drifting above the Planet Mirth, stuck on a space station with a computer robot called L.E.M.O.N. (Linguistically Enhanced Mobile Operations Network). Low on provisions, they head down to the planet to stock up... Bad idea... There's a sofa storm coming (this is written by Trev & Simon so what did you expect?).
Keeping everything together (just) is their unreliable narrator, Bounty Flightingale; and the voice of M.A.D.I. (Monographic Announcement Description Interface), she lets us know what's what, and where's where (when she can control her attitude problem). So settle back and over to Jeremy in the studio...
More episodes
1st October 2015. 25 minutes.
Episode 2 sees Trev, Simon and Sophie still orbiting the Planet Mirth but an unforeseen emergency sends them in search of a cure! Meet the hairy scary Rhinocerbikers, led by...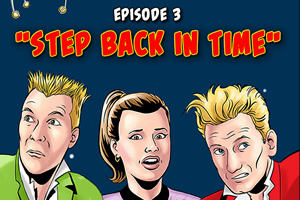 12th February 2016. 26 minutes.
Trev, Simon and Sophie have been stuck in space, orbiting Planet Mirth in their broken down spaceship, but how the heckers did they get up there in the first place?...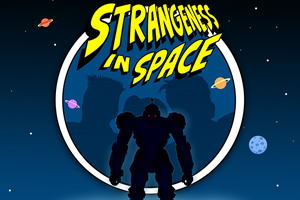 18th June 2016. 30 minutes.
Trev & Simon embark on another mad mission to Planet Mirth with Sophie, to find the rightful owner of her beloved day-glow alien space pet... but soon wish they hadn't!...
The Team
Clare, Sophie, Trev and Simon went to Manchester University together to study drama. Now, decades later, they've teamed up again to bring us Strangeness In Space.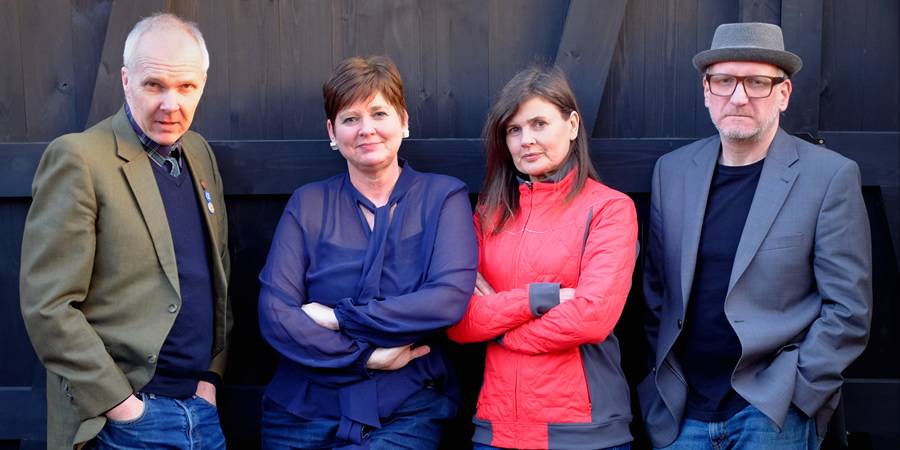 Trev & Simon: Their multitude of character creations on 1980s and 1990s Saturday morning shows Going Live! and Live & Kicking became legends, whether it was Don & Dougie Draper ("We Don't Do Duvets"); Ken & Eddie Kennedy; the Barbers ("We Don't Do Perms"); or The Singing Corner ("Swing your Pants"). Since then they've continued to work both together and separately, as writers and performers, in adult and children's TV.
Sophie Aldred: Sophie played the role of Ace, companion to the Seventh Doctor in Doctor Who, from 1987-1989. Since then she's worked on a variety of TV shows and her extensive voice work also includes animated programmes such as Dennis & Gnasher.
Clare Eden (Producer): Clare worked for many years as an Agent. She now works in an eclectic variety of related areas; as consultant to freelancers; running social media pages for clients, and as administrator of the John Thaw Foundation.