Series 9 - Put Up The Christmas Cards

Pappy's Flatshare Slamdown: Series 9 - Put Up The Christmas Cards
Elis James and John Robins take part in the Christmas special which features sexmas, Santor Standon, and the vaguest assonances.
Download episode
(right click, select save link)
Published: 17th December 2019. Length: 96 minutes.
Next PFS episode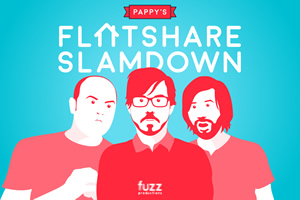 Date: 7th January 2020 Length: 79 mins
Neither 'Tom!' nor 'Ben!' want to download the podcast so Matthew says we're gonna have to have a Flatshare Slamdown. With Dave Holmes and Harriet Kemsley.