Episode 35 - Are you OK?

Richard Herring: Ally and Herring's Twitch of Fun: Episode 35 - Are you OK?
Rich is celebrating Earth Day, though he's somewhat downbeat, but could this be the big comeback for Brian Wasp? Or some of the other more minor characters? Ally and Rich discuss football and interspecies sex and the morality of repairing antique puppets, plus perform a haunting duet. Law Fox has some stiff competition for Mayor of London and there are some very special birthdays for three viewers who have all had sex (which is a first for that slot). The title of this show comes from Rich's mum's three word review of the show.
Published: 23rd April 2021. Length: 73 minutes. Size: 33.5mb
Video
Next Ally and Herring episodes
Date: 30th April 2021 Length: 72 mins Size: 33.3mb
Rich is annoyed that he hasn't won a BAFTA but he has a great joke about a giant coin that will surely seal his award for next year. He and...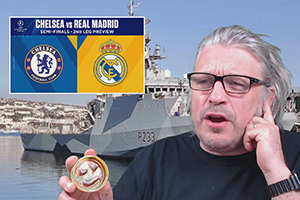 Date: 7th May 2021 Length: 72 mins Size: 32.9mb
There has been a shake up at the channel and things are a bit different this week, which does not make Rich happy. But the Duke of York is on...
Richard Herring: Ally and Herring's Twitch of Fun - All Episodes