RIP Windsor Davies
Windsor Davies dies aged 88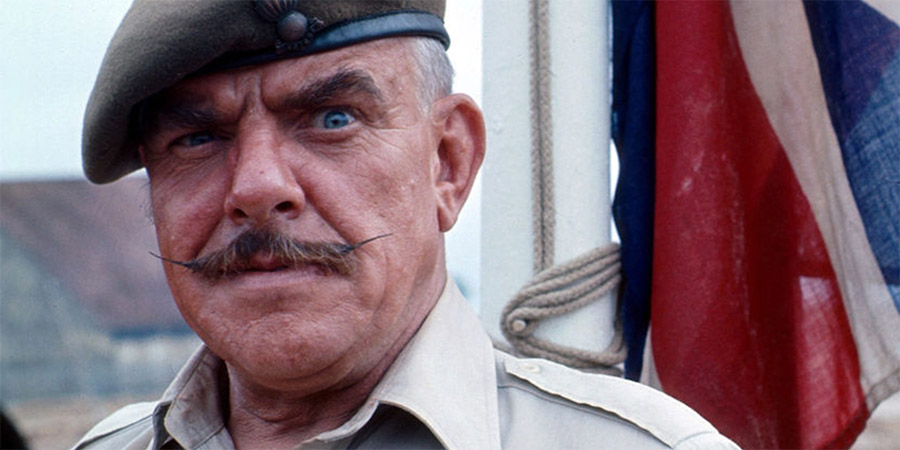 Comedy actor Windsor Davies has died aged 88.
He was noted for his distinctive, booming Welsh-accented voice and is best remembered for comic roles in a number of Carry On films, and sitcoms Never The Twain and It Ain't Half Hot Mum.
Davies was born in London to Welsh parents, and raised from the age of 9 in their home town, Nant-y-Moel. After school, he followed in his father's footsteps as a miner, before being called up for National Service and a posting to North Africa. On his return, he became an English and Maths teacher, and- following encouragement from his wife - he became involved in amateur dramatics.
His first TV series - Probation Officer - did not go well. He told BBC Wales a few years ago: "It was a terrible mistake to have taken that job because I didn't know one end of a TV camera from the other and I didn't know how to tackle the job properly."
Learning the art of television acting through his work, bit-parts in programmes like Z Cars followed. However, TV producers then started spotting his comedic talents and he was soon called upon to appear as a "feed man" for the likes of Dick Emery and Norman Wisdom.
When the writers of Dad's Army were looking for stars for It Ain't Half Hot Mum, their sitcom set around a Royal Artillery concert party posted to India, they called Davies and singer Don Estelle, who had been working together on the northern club circuit, for auditions.
Windsor was up for the role of BSM [Battery Sergeant Major] Williams. He explained: "David Croft and Jimmy Perry had auditioned a number of people and they were fed up with some of them telling them how to play the sergeant major. I did my old Cockney bit but they said, 'hang on a minute, you're a Welshman - do it as a Welshman' and I remember thinking about a bloke I knew from the South Wales valleys, who talked this certain way, and they laughed. When I got home, my agent had called to say they wanted me."
The sitcom was soon a success, and grew to a peak audience of over 15 million viewers. The show ran for eight series in total, from 1974 to 1981.
Speaking about the role in an interview, and how it linked to the real experiences he had had with the Army in Africa, he said: "Apart from the brilliance of the writing, I think It Ain't Half Hot Mum was brilliant because that is how it really was. Sergeant majors had these recognisable forms of expression and all that stuff. A lot came from David Croft and Jimmy Perry who were both ex-Army."
The actor also notably co-starred as Oliver Smallbridge in Never The Twain, a long-running ITV sitcom set around the antiques trade. Created by Johnnie Mortimer and also featuring Donald Sinden, the popular comedy ran for a decade; from 1981 - the year It Ain't Half Hot Mum ended - until 1991.
He also starred in his own 1984 BBC sitcom about a museum worker who found himself propelled to the House of Lords, The New Statesman.
Following a long film, TV and advertising voiceover career, Davies retired to France with his wife. She died in September - they had been married for over 60 years in total, and his family confirmed today that he passed away on Thursday (17th January). The couple had five children. Jane Davies says her parents left a large family "who will all remember them with love, laughter and gratitude".
Speaking to BBC News, Melvyn Hayes who played 'Gloria' Beaumont in It Ain't Half Hot Mum, said: "To work with him was a pleasure, a sheer delight, because he was so generous. Generous in his work - in every way with him. You couldn't actually ever buy him a drink. You'd go into a public house and they'd say, 'Oh Windsor's put some money behind the counter for you,' and that'd be to everybody. He was nothing like the character he played. He was a charming, quietly spoken, gentle human being. A lovely, lovely man."
Here is Davies in action in It Ain't Half Hot Mum:
Davies and Don Estelle, who played Gunner 'Lofty' Sugden in It Ain't Half Hot Mum, had a number one hit together in 1975 with Whispering Grass. Here's the video:
---
Share this page