Ken Dodd receives Slapstick Comedy Legend award
Ken Dodd receives Slapstick Comedy Legend award
Ken Dodd has been named a Slapstick Comedy Legend
He picked up the Aardman Slapstick Award at Bristol's silent comedy festival
The award is a model of Morph holding one of Dodd's trademark feather dusters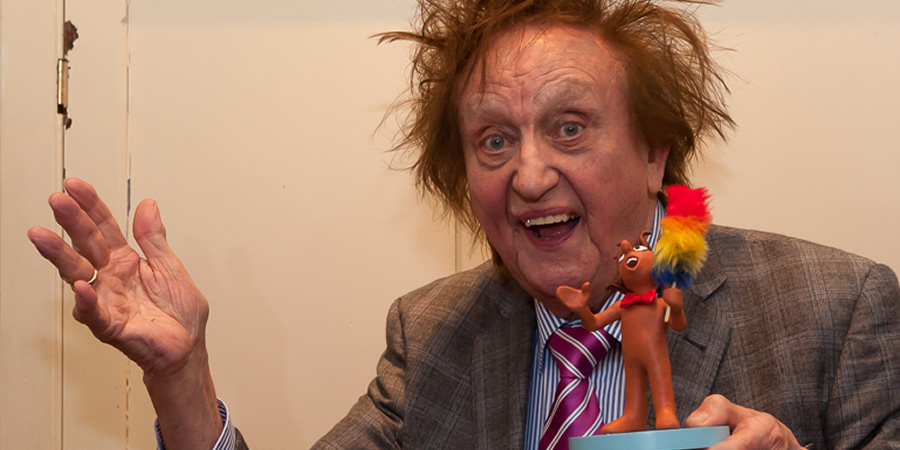 Ken Dodd has received a Slapstick Comedy Legend award at Bristol's silent comedy festival.
The veteran performer was awarded the Aardman Slapstick Award at a sell-out show last night (Monday 25th January), as part of the city's Slapstick Festival.
The Aardman Slapstick Award was developed in 2007 as a collaboration between the Slapstick Festival and Wallace & Gromit producers Aardman Animations. Awarded occasionally, the title is reserved for performers who have "made a significant and lifelong contribution to British comedy". The previous recipients are June Whitfield, Barry Humphries and Barry Cryer.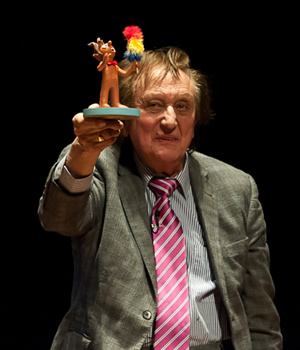 The award itself - designed by the Aardman Animations model shop - consists of a version of Morph in the guise of whomever the award is presented to.
88 year-old Ken Dodd has been performing comedy for over 60 years. He made his professional debut at the Nottingham Empire in 1954, and worked his way up to top billing at Blackpool in 1958. Famed for his long gag-packed stand-up shows, Dodd's performances often don't finish until after midnight. He was added to The Guinness Book of Records in the 1960s for the world's longest ever joke-telling session: 1,500 jokes in three and a half hours.
Dodd was awarded with his unique Morph trophy at a ceremony at the St George's venue in Bristol, the last of 25 events staged as part of the city's annual six day celebration of the art of slapstick comedy.
The event also saw the comedian put a custard pie in the face of audience member Lu Cyrcus, whose husband - via the festival's Kickstarter fundraising drive - had arranged for this to happen as a birthday present. The 2016 festival also saw Tim Brooke-Taylor and Bill Oddie putting custard pies in the face of a Goodies fan.
The custard pies were hand-made by the festival's Development Manager Jacqui Ham, who had undertaken research into the materials favoured by early silent clowns. The festival explains: "It fitted this year's programme because we included a salute to Ben Turpin - reputedly the first silent star to be custard pied!"
The Slapstick Festival will return in early 2017, but the organisation's next event will be an evening with Michael Crawford on the 7th April. Events later in the year will include a fundraising comedy gala. To find out more about the festival and its events visit www.slapstick.org.uk
Share this page