Dom Joly versus Remi Gaillard
Dom Joly accuses YouTube star Remi Gaillard of copying his ideas
Dom Joly has accused French YouTube star Rémi Gaillard of copying his ideas
A YouTube video has been published (see below) which juxtaposes pranks filmed by Joly and Gaillard
In a Facebook post, Joly said: "I have taken legal advice and will not take this kind of thing lying down"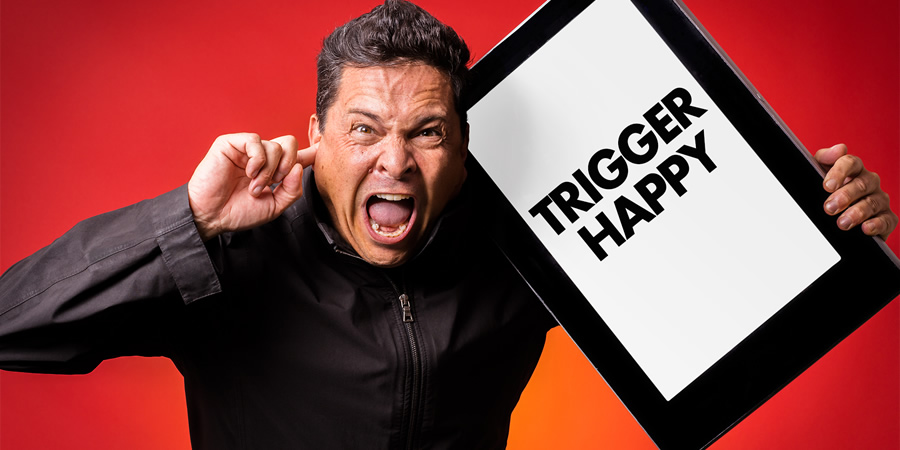 Trigger Happy TV creator Dom Joly has accused French YouTube star Rémi Gaillard of copying his prank ideas.
The accusation follows up on recent newspaper reports in the French press, which have reacted to a video that has placed footage from Trigger Happy TV, filmed between 1998 and 2001, alongside Gaillard's videos, filmed more recently.
Posting on Facebook today, Joly wrote: "The story that is bouncing around France about Remi Gaillard stealing my ideas and using them for his own broadcasts and financial gain is gathering steam.
"It started when a fan released a video putting my clips and Gaillard's clips next to each other. (it has a break after three vids but then carries on with loads more).
"I was aware that Gaillard had used several of my ideas in an identical fashion and had attempted to contact him to ask him to stop (never got a reply). But when I saw the industrial level of theft I was astonished.
"What really annoyed me however was the fact that when Gaillard got wind of the video being released by CopyComic [the YouTube channel] he contacted me suggesting a collaboration. I was unaware of the video at the time and agreed as I wanted to confront him in person about his behaviour.
"He then used my agreement as a defence (basically - how can I be a thief if we are collaborating - we are great mates). This was sneaky as fuck and I called him out on this. He has now started attacking me and even accusing me of stealing off him (with zero proof) and, bizarrely off Buster Keaton.
"If he had apologised initially then I might have let things go - imitation is the sincerest form of flattery and all that. His desperate, unpleasant behaviour since has made me very angry. I have taken legal advice and will not take this kind of thing lying down. I've worked incredibly hard at my craft for a long time and do not appreciate somebody behaving like this."
Below is the video that juxtaposes Joly's original sketches with more recent ones filmed by Gaillard:
Rémi Gaillard, who labels himself "world famous for his dangerously funny videos" has over 6 million subscribers on YouTube. Yesterday he posted the following tweet in his defence:
Hey @domjoly, nous avons les mêmes influences. J'ai adoré ton clin d'oeil à Buster Keaton. Si c'est une coïncidence, ça m'a fait marrer quand même. pic.twitter.com/ScM0zZacD1-- Rémi Gaillard (@nqtv) December 6, 2017
Joly is currently filming Trigger Happy, a new online version of his original format, for Channel 4's All4 streaming platform. The latest batch of episodes were published this week, and are available to watch now.
11th December update
Gaillard has posted a video to defend himself. The first 10 minutes focuses on where foreign broadcasters have copied his ideas, before he then moves on to accuse Joly of copying sketches filmed in France in the 1990s and suggest that Joly took inspiration from several Buster Keaton films.
According to YouTube's French to English subtitles, he says: "I was accused on stealing ideas from guy in England. Although I've been doing this for 20 years and I made like 200 videos - I don't know how many ideas I've carried out - and here you are nabbing me for some crap... but fuck, sorry, I haven't waited on the British dude to make elevator pranks, and who knows maybe the British dude drew on pranks shot in France in the 1990s."
Joly shot back on Twitter:
It appears that the increasingly pathetic and desperate @nqtv is now trying to deflect his clear thievery by accusing me of stuff. Pitiful.-- Dom Joly (@domjoly) December 11, 2017
Oh @nqtv you really are panicking aren't you? Why not be a man, admit what you did? Oh @nqtv tu paniques tellement? Pourquoi ne pas être un homme, admettre ce que tu as fait?-- Dom Joly (@domjoly) December 11, 2017
---
For updates, click the button below.
Share this page