BBC3 series Top Ten
BBC Three publishes new Top Ten series
In each of the 20 episodes, comedians list their personal 'Top Tens' on a subject of their choosing
The BBC is inviting people to submit their own 'top 10s' via its Mixital platform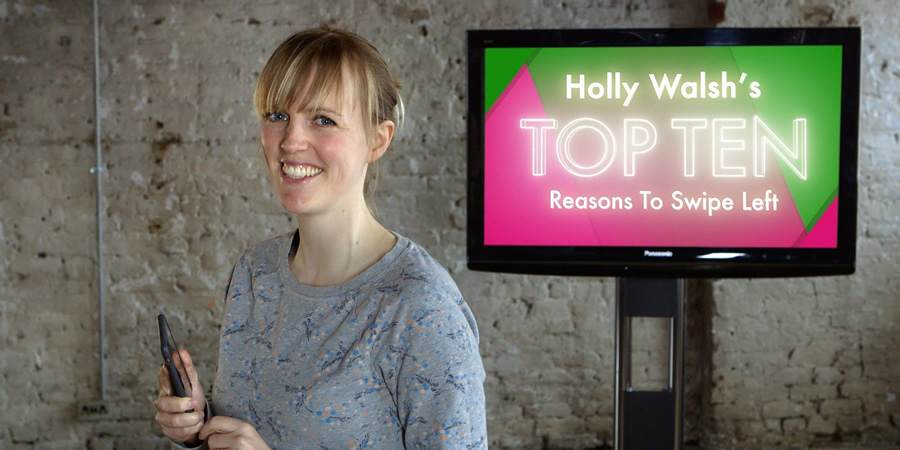 BBC Three has launched a new long-running web series called Top Ten.
The format sees British comedians listing their personal 'Top Tens' on a subject of their choosing.
Launching today, 20 episodes will be published on the BBC Three website and YouTube channel, on a weekly basis.
Comedians who have filmed episodes for the series include Josie Long, Nick Helm, Sam Simmons and, as their Sexy American Girls characters, Natasia Demetriou and Ellie White.
Tilusha Ghelani, who commissioned the strand from the BBC's in-house team alongside production companies Rumpus Media and Fudge Park, says: "Top Ten gives brilliant comedy performers the chance to make a film in their own unique comic voice. This is a series of short, funny films that showcases their wonderful talents on BBC Three."
The full list of comedians taking part, and the subjects of their choosing, are:
Holly Walsh: Reasons to swipe left
Nish Kumar: Crazy conspiracy theories
Jamali Maddix: Questions white people ask me
The Pin (aka Ben Ashenden & Alexander Owen): Highlights of making their top ten
Mae Martin: Things that I fancy about people regardless of gender
Steve Bugeja: Things you really should know before you're a grown-up
Lazy Susan (aka Celeste Dring and Freya Parker): Tips for when you've forgotten your make-up bag
Ken Cheng: Most hated proverbs
Sarah Campbell: Embarrassing moments
Michael Spicer: Job interview tips
Jack Carroll: Best things about leaving school
Jessie Cave: Things about my dream wedding
Mandem On The Wall: Ways to get a girl
Joseph Morpurgo: Lost EastEnders episodes
Sexy American Girls (aka Natasia Demetriou and Ellie White): Best things about the land of The America
Josie Long: Opinions that may or may not have got me dumped
Nick Helm: Things that depressed me today
Sam Simmons: Things that annoy me
Lolly Adefope: Classic Lolly Adefopes
Lou Sanders: Tips to become a beauty model
BBC Three is also offering fans the opportunity to add their own jokes to the series and have them showcased by BBC Three. Top Ten fans can add their own 'funnies' based on that week's subject through the BBC's creativity platform, mixital.co.uk.
Using a range of assets including characters, sets, visual and sounds effects, users can create their own comedy content on Mixital, as well as being able re-mix other people's sketches. They can also share their creations on social media, rate others, comment, and follow each other on Mixital so the creators with the most creative flair can build their reputation.
BBC Three will then highlight each week's best creations via its Daily Drop and Best Of Three strands and on its social media accounts.
Damian Kavanagh, Controller, BBC Three, explains: "We're changing our relationship with fans by engaging them with our content and making them creators. I hope these Top Tens from some of the best and brightest new comedians in the UK inspire people to create their own so we can discover even more new comedy talent from across the UK."
The first episode, in which Holly Walsh looks at ten men on dating apps, is available to watch now.
Share this page