Won't someone think of the aunties? And the grandparents, and the family friend that still buys you presents even though they haven't seen you since 2007? At this time of year, until recently, they'd wander into an HMV or Virgin Megastore - perhaps a Fopp - and pick up the latest DVD by the comedian they reckoned you might like, and tick that gift off the mental Christmas list, before embarking on more difficult challenges (something for your mum).
But what do they do now that DVDs players are gathering dust, and the only CD player you ever see is in your 2009 Vauxhall Astra, which will eventually be phased out too? Perhaps we need to give them a steer, as there is another - and better - solution, comedy-wise.
If you haven't come across it before, NextUp is like walking into a well-stocked DVD shop, heading for the immense comedy section, and then walking off with everything. But without the tricky space issues, and with some unexpected gems you might not have thought of seeing, but soon become a new favourite.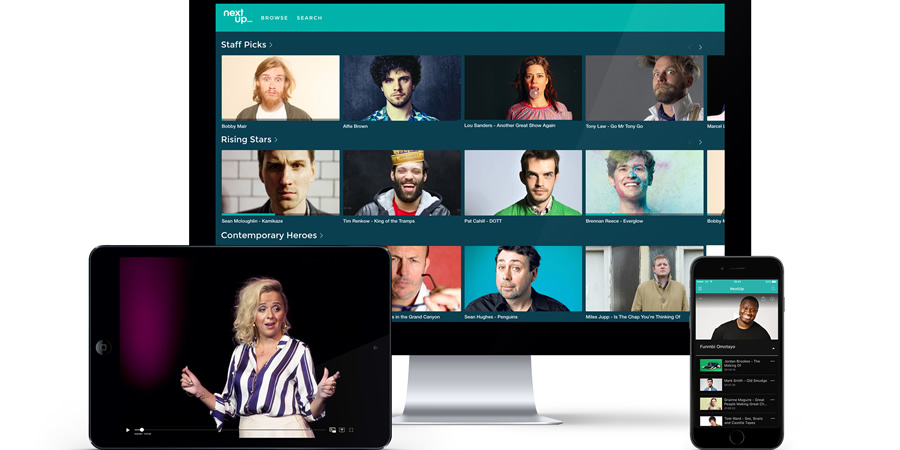 On NextUp, it's an absolute smorgasbord of talent, from classic hours by big name comics - Ed Byrne, Bill Hicks - to cutting-edge recent breakthrough stars, who are too many to mention here without offending 90% of them, although two notable recent additions are Hammerhead by Joseph Morpurgo and Adam Hess's Seahorse, neither of which are particularly aquatic, but both demanded a re-watch, when on the nation's stages.
NextUp is an instantly-accessible library of great comedy hours, essentially; many of which would otherwise be lost for ever. And the new shows are now coming thick and fast.
That platform is run by a knowledgeable team of comedy fanatics, including BBC Worldwide's former Director of Comedy, and you've got to admire their commitment to finding and distributing great stuff. At this year's Edinburgh Fringe the team saw 200 shows and recorded 14 new specials, which will start popping up this month, featuring the likes of Bec Hill (I'll Be Bec), Aaron Simmonds (Disabled Coconut) and Robin Morgan (What a Man, What a Man, What a Man, What a Mighty Good Man [Say it Again Now]). A burgeoning bunch of American shows are now turning up, too.
There are two new specials appearing on the platform each week, in fact, which is a far cry from the meagre stand-up pickings a lot of us had to put up with, on TV as kids. A few minutes of Jim Bowen at the start of Bullseye, a brief snatch of Bob Monkhouse on whatever he was hosting that week, and that was pretty much it.
One big reason that this now firmly-established streaming showcase is able to record such a rich array of shows is due to some similarly modern methods of getting the public involved. NextUp recently launched a Crowdcube campaign, in which members of the public can actually buy shares in the company: they smashed their £300k target within 10 days of launching it, and are already over £400k, at the time of writing.
Indeed, anyone keen to get involved can still do so, as the Crowdcube campaign is still open until Thursday [26th September 2019], and you can invest anything from £10 to £10million, if you happen to have it knocking around: perhaps you're a Premier League footballer who's really into The Delightful Sausage. Or, hey, owning a bit of a brilliant idea is a pretty awesome present, too: send a £20 note and the Crowdcube link to a comedy-loving loved one, and Bob's your uncle.
The Crowdcube campaign has now finished.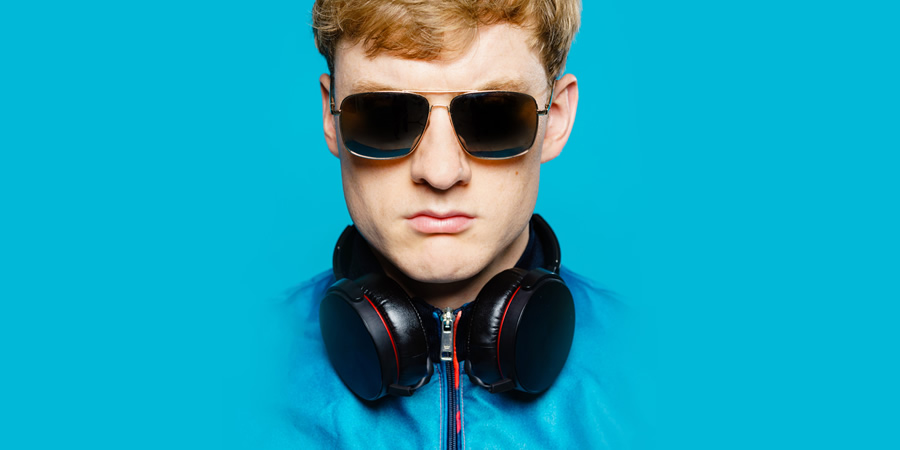 But are the comedians themselves into it? Yes they are. James Acaster has invested in the Crowdcube campaign, for example. Admittedly he thought he was investing in a whole different company at the time, but he seems quite happy about it all the same.
"I also wasn't paying attention as I was eating a delicious toastie," Acaster explained. "So I did what any sophisticated investor would do and ate my cheese and pickle delight whilst mindlessly entering my credit card details online."
"Luckily for me, having looked at NextUp it turns out they're not the daylight robbers I first imagined them to be. They support the comedy world and stream an incredible range of stand-up on there. Turns out I did know what I was doing - watch out investment world - there's a new big dog in town... and he's bringing his Russell Hobbs toastie maker."
The only suspect decision there is pickle in a toastie. Meanwhile the similarly award-laden Phil Nichol is also a fan.
Crowdcube themselves were clearly impressed too, and co-founder Luke Lang professed to being "thrilled to be working with NextUp Comedy on their landmark crowdfunding campaign. Reaching their target in just 10 days shows the power of NextUp Comedy's ability to resonate with a growing community of advocates. At Crowdcube, we enable entrepreneurs who challenge the status quo, and we're delighted that so many backers feel the same about NextUp Comedy."
So, yes, until Thursday you can invest in the company. And after that anyone can continue to contribute by taking out a subscription, at £4.99 a month, which is less than half the cost of one DVD, when you think about it, for a mind-boggling range of shows.
A subscription is an excellent present to give, too, although admittedly harder to wrap than a DVD. Perhaps NextUp should offer a gift subscription in a DVD-sized case? One to ponder.