Daisy Haggard is the star and co-writer of Back To Life. She talks more about the show here:
How would you describe Back To Life?
I would say that it's a mysterious, dark, comedy drama about an adult beginner; a woman, pushing 40, returning to the small town where she committed a terrible crime and trying to start her life with all that is thrown at her and all the baggage she's dragging behind her.
Where did the idea for the show come from?
I have always been very fascinated about how harshly we judge women who have done a bad thing, compared with how we judge men. That was a really strong pull for me to write something about somebody who had done a terrible thing. I was also fascinated with the idea that we are all probably just two degrees from having either done a terrible thing or having been involved in something in your teenage years that could have gone disastrously wrong.
I thought it was a really interesting idea to focus on somebody who was, in some ways, an innocent but they have this terrible, terrible past. What that would be like to then have to go home into your small town where the terrible thing happened, to go back to living with your parents who have lived with the impact of the thing? How on earth would you start your life, now as a grown woman, with this baggage trailing behind you? How hard must that be?! Life is hard enough anyway; women are judged harshly enough.
Was the story inspired by any particular moments from your own youth?
I didn't have a specific moment that is directly relatable to this series but there were always stories of tragedies that had occurred within your circle, or just on the outskirts of your friendship circle. There is something very haunting about shocking events at that age, there's so much going on, so much potency, it's such a strange and powerful time. I've always been fascinated in that.
Tell us about your character, Miri...
Miri is an optimist and a fighter and somebody who, every time she gets kicked, she gets back up again. She's determined to start her life.
Although this is a show about redemption in a way, it's not that she expects to redeem herself. She just wants the very simple things, she wants to get a job and to be a person in society, which she hasn't had an opportunity to do as an adult.
She possesses a surprising naivety and innocence despite her shocking past. In the present, she's just a well-intentioned woman who isn't quite where she thought she'd be in life, at an age where she imagined she'd have it all worked out. And she gets judged quite a lot. Most women can relate to that. I hope that, in the end, we judge who she is now and not by what happened many years ago.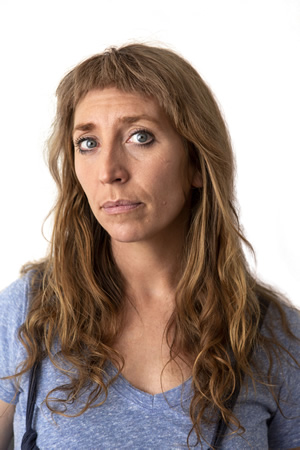 Do you have much in common with Miri?
I'm an optimist and hopelessly determined so we share that but obviously I do not share her criminal back story! But I suppose we are both quite plucky.
When you're writing you always try and make things real and true and so, for example, her father is obsessed with ecological warfare - and my dad is certainly very into his recycling! There are plenty of details that feel real and true to me in the show, just not "the terrible thing".
I don't know if you've ever gone back and stayed with your parents but my experience has usually been being told how to load a washing machine or a dishwasher and so I took quite a lot of joy in writing all those things down. Revenging my father for all his plate rinsing ways!
Can you tell us a bit about Miri's relationships with the other characters in the show? How have her relationships been affected by her time in prison?
When Miri first returns home, she's really keen to see her ex-boyfriend, Dom, who she is still in love with and has turned into some kind of Adonis in her mind. She thinks, very naively, that maybe she might be able to walk back into that relationship despite the enormous amount of time that has she's been away. We follow her journey of immediate disappointment on that front!
Then there's her old best friend Mandy (Christine Bottomley), who Miri fell out with because Mandy didn't visit her in prison. Mandy tries to re-build their friendship and Miri is quite reluctant at first, until she realises she doesn't have many options.
There is also this sweet neighbour, Billy (Adeel Akhtar), who she strikes up a really lovely friendship with but the inevitability is that he will find out what she's done. She learns, I think, in the series, to come to terms with her truth and she doesn't expect life to give do her any favours because she just has to keep on fighting.
Miri and her parents go on a lovely journey in the series. They are quite an uptight sort-of middle-class family who don't talk about things so, when Miri gets back home, her room is the same and she's thrust right back into this house and this life that she left 18 years ago, but they don't really discuss what has happened.
Tell us about the origin of the idea.
The whole process from conception to now took, I think, about 4 years. I know Harry [exec producer Harry Williams] well and started pitching a series of ideas to Harry and Jack [Williams] (many of which were awful!) until I finally stumbled on a good one! And then, I just got Harry really drunk and fed him lots of ham croquettes and he said yes!
I owe a lot to the two brothers, and to the brilliant executive producer Sarah Hammond, who worked tirelessly on the idea with me and helped get it into good enough shape to shoot the taster with Chris Sweeney (which he did excellently) and, from that, we were lucky enough to get a pilot commission from the BBC.
At that point, I was eight months pregnant so I shamelessly begged Laura Solon to share her brain with me and she thankfully agreed. So the co-writing began. Overall it was a hugely collaborative process - and Shane Allen and Kate Daughton at the BBC have been very supportive and given great notes. I learnt that a show is nothing without all the people who make it something. And most of those people aren't me!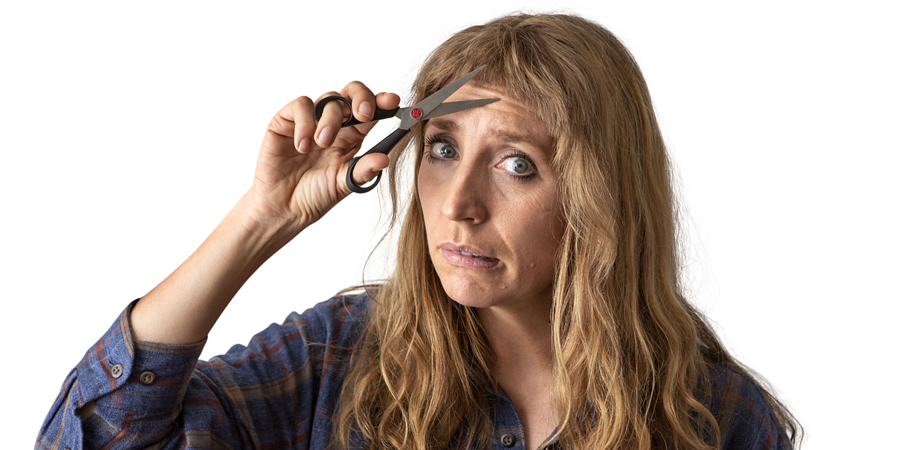 And it's also a bit of a family affair?
Yes, there are some pros to sleeping with someone in a band, and one of those pros is our amazing original soundtrack! [Daisy is married to one half of Solomon Grey, who composed the music for the show.]
What attracted you to working with Laura Solon?
When we got commissioned for a pilot, I was very heavily pregnant and we needed to get somebody else involved in the writing process. I immediately thought of Laura because I worked with her as an actor years ago. We did a pilot together and I just I love her, and also she'd written on a show Man Stroke Woman that I did and I thought that all her bits were brilliant. On top of that, she's a friend and also a mother in the same situation as me, so it worked really well.
Her brain is completely different to mine so we complimented each other. She's fiercely clever. I'm not saying I'm not, but she pulls my madness into shape in such a great way so I feel very grateful to Laura.
What was your writing process like?
My writing process mainly involved the local café at the bottom of my hill. Quite often with a baby on my lap, trying to stop the baby writing weird words, plus lots of coffee, a little bit of wine, a lot googling things I didn't need to google, procrastination and online shopping and then, when I realise I've got an one hour left, extreme panic and then I do some writing!
My writing process is basically 90% procrastination and then when extreme panic kicks in, I suddenly start writing very, very fast. Some days are terrible and some days are amazing and you write loads and you think you're really clever and other days you hate yourself.
Laura is based in LA, and you live in London, so was it challenging to work?
We would have a Skype basically every day at like 4 or 5pm. I'd work through the day, and then we'd have a Skype and she would read what I'd done. She's in LA, so we'd do different shifts and quite often there would be children running in. I'd be getting one ready for the bath or she'd get one ready for school but we got through it. We're such good friends.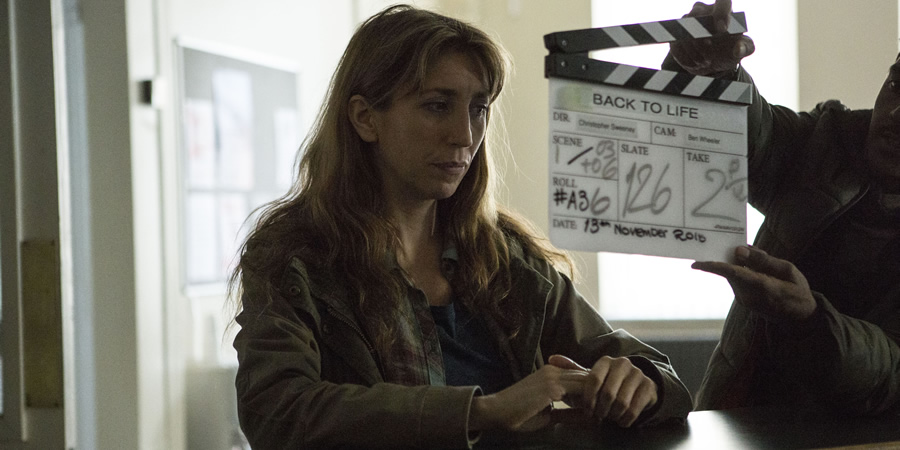 Did you do much research for the script?
The main research I did really was to meet and speak to people who had been in prison and then gone home to their family houses, so we had fantastic help on that and it was really insightful on some of the struggles you wouldn't really think about, such as re-registering at your GP and getting house insurance, and just tiny details that make all the difference.
And you filmed in a gorgeous seaside location, too?
We wanted to find a beautiful but complex seaside town that wasn't just chocolate box pretty but had an edge and an interesting vibe.
I'd been to Hythe before, it's very beautiful but also it has a huge variety and is a really interesting place. It has its proximity to Dungeness, which is obviously the most bleakly beautiful eerie spot which made it the perfect location. So all the exteriors were in Hythe or within the region of Hythe and then all the interiors I firmly made within 8 minutes of my house so I could put my children to bed every night, which I did!
What would say are the key themes of the show?
Redemption, love, family, friendship and identity. None of us are the same person we were 20 years ago.
Do you think we are starting to see more complex, layered female characters on screen?
Yes, finally, and I hope there are many more to come, to the point where we don't compare them anymore, it's just a really good character. It's an exciting time for women but I hope it gets more exciting and continues this way! We need to be getting excellent parts and if we need to write them ourselves then we'll do that.
What do you think people will think of the show?
I hope that we have created a mysterious, dark but warm, hopeful show that people will find themselves relating to. Real life is tragic, hilarious, weird, innocent and dark... it's all the things. We wanted this show to be emotionally truthful, a good old mix so I hope that it is original and that people like it.