Man Like Mobeen social award
Man Like Mobeen shortlisted for social impact award
Man Like Mobeen has been shortlisted for Best TV Show at the Visionary Honours 2020
The social impact awards say the show "offers a rarely seen insight into working class life as an ethnic minority"
The creators say "making this shortlist is an enormous compliment"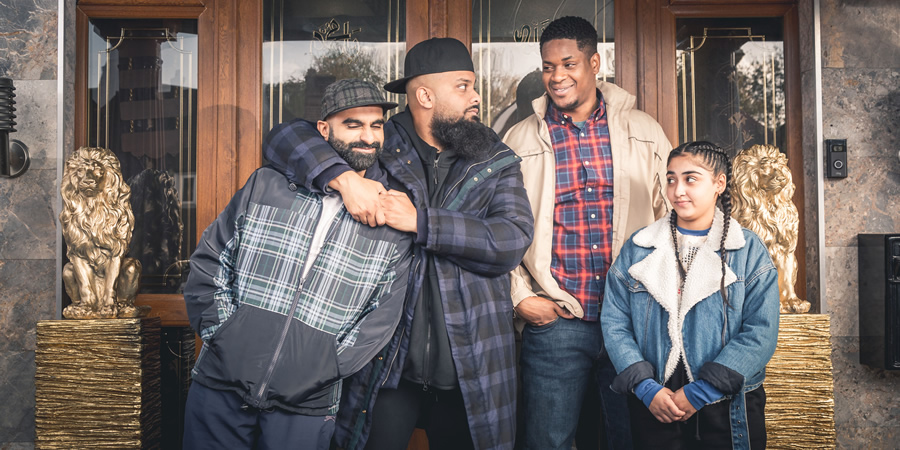 Guz Khan's comedy Man Like Mobeen has been shortlisted in the Best TV Show of the Year category in awards that recognise social impact.
The Visionary Honours 2020 are run by the Visionary Arts Foundation, which is focused on making the arts, media and entertainment industries more inclusive and accessible in the UK, and aims to help develop and launch the careers of young creatives from BAME, LGBTQ+, disabled and low income groups "as well as anyone who feels their story is not being told in the mainstream."
Talking about Man Like Mobeen, which has recently returned for a third series, the awards say: "Presenting the funny yet complex realities of life for young working class men and women in Britain today, Man Like Mobeen offers a rarely seen insight into working class life as an ethnic minority in Birmingham and addresses real social issues whilst maintaining the comedic palatability of Guz Khan's unique voice."
Co-writers and co-creators Andy Milligan and Guz Khan say: "Man Like Mobeen making this shortlist is an enormous compliment. Everyone who works on the show is passionate about creating something that reflects a community that's too often misrepresented on TV and the media in general. This is another step towards us changing that. (And we hope it's funny too)."
The BBC Three comedy is shortlisted alongside Ross Kemp Living With..., RuPaul's Dragrace UK, Seven Wonders, One Planet, When They See Us and Years And Years.
The winners will be announced a ceremony in London's Soho on Wednesday 18th March, hosted by Sally Phillips. She says: "I am very proud to be the host of the second annual Visionary Honours and to be a part of the Foundation's work in empowering young creatives to inspire social change. Having been in the creative industries for over 20 years, I have seen how films and documentaries can influence minds and impact the world. My son, Oliver, has Down Syndrome, so it is perhaps no surprise that I strongly advocate inclusive opportunities which allow everybody to participate in the cultural and economic activities of the communities in which they live. The Visionary Arts Foundation promotes a more a diverse society, and for me that is much richer society."
Founder of the awards Adrian Grant, who created West End musical Thriller Live, says: "The Visionary Arts Foundaton believe that entertainment and media has the power to change the world and voices of all cultures, creed, gender, sexuality and ability should be heard, seen and respected. Through the Visionary Arts Foundation it is our goal to open doors and provide opportunities for young creatives and to inspire them to produce work that can influence positive social change."
To view the full shortlists, which also includes Griefcast host Cariad Lloyd in the Influencer/Journalist Of The Year category, and Fleabag creator Phoebe Waller-Bridge in the Most Inspiring Person Of The Year category, visit visionaryarts.org.uk
---
For updates, click the button below.
Share this page