Britain's Got Talent star Edward Reid accused of copying comedy duo
Britain's Got Talent star Edward Reid accused of copying comedy duo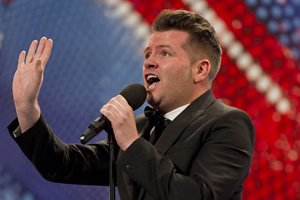 Edward Reid, who is now the bookies favourite to win ITV show Britain's Got Talent, has been accused of copying the act of hit musical comedy duo Frisky & Mannish.
Reid, who appeared on Saturday's show, impressed the live audience and judges with a medley of nursery rhymes performed in the style of Snow Patrol's Run. However, as the Scottish drama teacher performed on TV, a number of comedy fans took to Twitter to suggest he had 'stolen' the idea from comic cabaret act Frisky & Mannish.
One Twitter user wrote: "Frisky & Mannish are being ripped off on BGT tonight!", whilst another comedy fan posted: "I think the guy singing nursery rhymes on BGT nicked his idea from Frisky & Mannish."
Laura Corcoran and Matthew Jones - who perform with a distinct vibrant style under the stage names Frisky & Mannish - have been performing a medley of childrens' songs to the tune of a Girls Aloud hit on the live comedy circuit for a few years. The duo have received a string of five star reviews at the Edinburgh Fringe Festival in 2009 and 2010 for their shows School Of Pop and The College Years.
At the time of the Britain's Got Talent broadcast, the duo couldn't comment as they were gigging in Cambridge, however they've since spoken to The Sun. According to the newspaper, Corcoran and Jones say they discussed their act with the BGT hopeful at the Glasgow Cabaret Festival, at which Reid was performing as part of a double-act called Bitter & Twisted.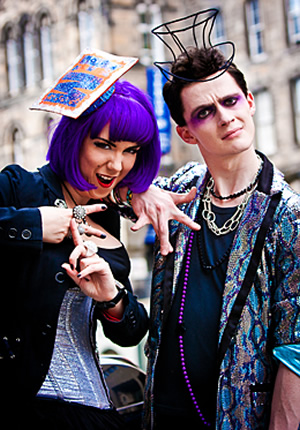 In a statement to the paper, the duo (pictured) said: "He's developed his version of Run, which bears strong resemblance to our version of Wheels on the Bus, which he saw us perform at the festival back in 2009. Of course we are not claiming we 'own' this genre of cabaret comedy - that is, performing twisted versions of pop songs. But there are strong links and similarities in this instance which are slightly disconcerting."
However, Edward Reid is insisting he got the idea for his audition medley from working with autistic children in drama classes. When asked about Frisky & Mannish, he told the paper's entertainment reporters: "I have heard of them but I haven't copied their act. The reason I came up with this because I was working with a pair of twins with autism. The only language one of them had was E-I-E-I-E-I and his brother only said O-O-O and we would sing Old MacDonald. They liked heavy metal music and they were chanting E-I-O to I Believe In A Thing Called Love by The Darkness, but it was too fast so I put it against Run. Then I decided to do it on the show."
He added: "I think Frisky and Mannish are hysterical and extremely talented. But I think there are other people who do stuff like we do. It's camp and tongue-in-cheek. I'd be flattered if anyone compared me to them because I think they're amazing."
Writing on their official Twitter account @friskynmannish this afternoon, the comedy duo are playing down the situation. They posted: "We were so hoping our first run-in with the tabloids would be a kiss-n-tell. But what a flippin palaver - we only rattled off a quick statement of the facts as we had them, cos we do know the guy, and it was weird."
They also joked: "We're now being counter-sued by Old MacDonald who apparently already had a farm 3 years ago."
Here is Frisky & Mannish performing on Radio 1's breakfast show with Scott Mills in March...
And here is Edward Reid performing on Britain's Got Talent (you may need to open YouTube to view this clip due to ITV restrictions)...
British Comedy Guide's recent interview with Frisky & Mannish
Share this page