Early release of Gavin & Stacey DVDs causes a row
Early release of Gavin & Stacey DVDs causes a row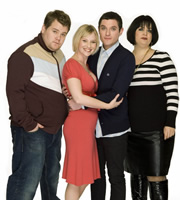 BBC critics are claiming that the early release of the third series of Gavin & Stacey on DVD is 'devaluing' the licence fee.
The third series of the show was released on DVD yesterday, along with a 'complete' boxset featuring all the episodes of the sitcom, despite the fact that only two episodes of the most recent series of the show have been shown on TV so far. The final four episodes of Series 3 are due to be shown on BBC One between now and the New Year, but viewers that buy the DVD can see the episodes now.
Don Foster, Lib Dem spokesman for culture, media and sport, told the Daily Mail: "It slightly devalues the licence fee if you discover that others who have got perhaps a bit more money can now get something before you as a licence-fee payer can see something that has been produced using your money."
The release has also angered some fans of the popular comedy as spoilers about how the show ends are leaking out on social networking websites like Facebook and Twitter.
A BBC Worldwide spokesman comments that the release was scheduled to exploit demand from Christmas shoppers, and that any profits will benefit licence-fee payers. The spokesman also comments that DVDs of BBC productions such as Pride and Prejudice and Mistresses have been released in the same way in the past.
The new Gavin & Stacey DVD is available to buy from some online retailers like Amazon for under £13.
Share this page