Review - Dara O'Briain: Craic Dealer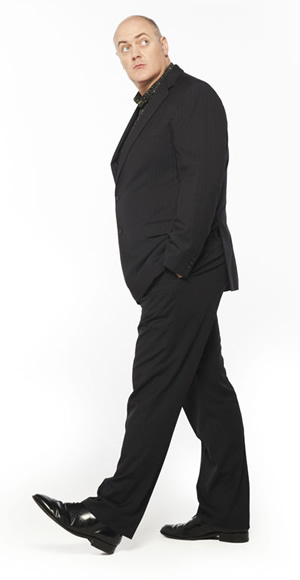 Jay Richardson reviews Dara O'Briain's Craic Dealer show at The Clyde Auditorium, Glasgow...
With Cheryl Cole performing in the adjacent Scottish Exhibition Centre, tonight offered the tantalising possibility of an unlikely duet Dara O'Briain warned. The "dopey cow" was having trouble with her radio mic and snatches of the Geordie songstress might crackle through into his set.
Thankfully, no such interruptions occurred. After being beset by tonsillitis and a wardrobe malfunction in Hull, the Irishman was on reliably fine form. Two years on from a supermarket's refusal to stock a DVD with the title Craic Dealer, for fear of promoting drug use, he remains incredulous about the decision. Even after an incident at Dublin Airport gave him pause to reconsider.
So established is he on television now and so long are his tours, that his desire to invest and differentiate each of his gigs with the same "fucking epic" quality as Oban's 2011 bonfire night fireworks display - in which the town accidentally set off all their rockets in less than three-quarters of a minute - is certainly welcome. In reality though, he delivers the exact opposite, consistent quality delivered over two and a half hours, his incessant delivery allowing no pauses for reflection unless he wants to get the audience involved.
Appreciating that conversing with the front rows for any length of time can seem like padding, he outlines the established rules of banter and challenges the crowd to invent occupations for him to riff on. Predictably, not everyone provides great inspiration. But O'Briain engineers plenty from what he gets, before setting up a couple of compelling insights into the pitfalls of corporate gigs.
His broad appeal is obvious, as he evokes the "something for the dads" tendency of mainstream television, whereby popular shows have to feature an attractive young woman that will keep the man of the house as interested as the kids. Bemoaning how "we have to be kept mildly horny at all times", he segues into a routine on the faster rate of female maturity, offering a lovely snapshot of his clumsy gaucheness on the teenage dating scene.
As he long ago established, he's also an atheist and a science nerd (with Dara O'Briain's Science Club to screen on BBC Two soon). His godlessness is reiterated as he grumpily recalls the kids nativity play he was forced to sit through, prompting him to suggest an alternative, more inclusive Yuletide production. Bringing to mind Wes Anderson's recreation of Apocalypse Now in the prep school comedy Rushmore, he seeks suggestions for other, radically new Christmas narratives, capably improvising around shouts for Scarface etc.
His science passion manifests itself in a withering character assassination of television "psychic" Sally Morgan and delight in the exposure of her charlatanism. In the evening's standout moment, he unexpectedly offers to defend her in her legal battle with The Daily Mail, delivering a brilliant advocacy of inverted logic with barely concealed sarcasm and utter disdain.
Outraged letters the BBC received after he and Professor Brian Cox mocked astrology on Stargazing Live prompts an amusing ad-lib, as he imagines the ultimate arbiter on their dismissive comments, head of The BBC Trust, as a cantankerous Dublin pensioner responding with "ah, would you fuck off?". We're seated just across the River Clyde from where Mrs Brown's Boys is made at BBC Scotland and he wonders whether this unlikely individual is why Brendan O'Carroll is doing so well. Next, a focus group on burglar repelling technique encourages the burly Irishman to indulge in some physical comedy as he prances round the stage in Mission Impossible-style manoeuvres.
Intriguingly, the observation that this sprang from, on the right-on liberalism of his "corner of Twitter" and how it was found wanting during the London riots, introduces a note of spikiness to an otherwise straightforward, crowd-pleasing set. And it anticipates the irritability of his encore, in which he bemoans the cameraphone culture of constantly snapping celebrities, building himself up for a big, hubristic fall. An assured and seemingly effortless performance, Craic Dealer reiterates what a strong hit of stand-up O'Briain continues to supply.