Alternative Comedy Memorial Society review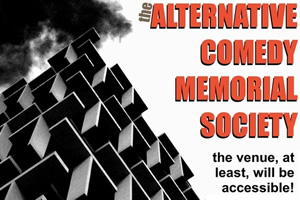 Funny comes in many forms. And at the Alternative Comedy Memorial Society - a fortnightly gig hosted and curated by John-Luke Roberts and Thom Tuck at the New Red Lion Theatre in North London - every single one is welcome. In fact, as the name might suggest, the more left-field the better; this is a place for experimentation, creativity and big-hearted fun.
Already notorious (and well-loved) for its epic bills, Roberts and Tuck are usually joined by a few of their fellow Society 'board members' - including but not restricted to Sara Pascoe, Tom Bell, Nadia Kamil, Bridget Christie and William Andrews - in addition to several special guests who are encouraged to try out new material.
And just in case having a good eight or nine acts isn't enough for your £8, audience members are also treated to unique, funny and often very silly ideas and sketches from the hosts that you won't see anywhere else, plus permitted heckles (fun needs rules), musical interludes, mini-plays... It's all put together with a beyond-the-call-of-duty level of care, in other words, and this has rightly earned the night a very dedicated following since its inception in March this year.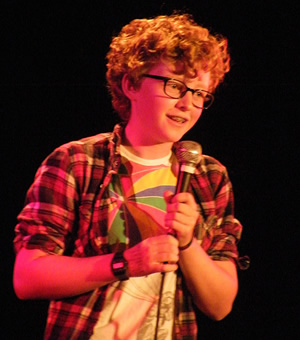 And the first ACMS after an enforced Edinburgh Fringe-related hiatus was as varied, unexpected and high-quality as ever. There were, of course, too many acts to go into detail about each, but highlights included the very talented and scarily young Eleanor Curry (pictured) celebrating her nerd tendencies, Bell performing a really rather good interpretive dance to the strains of Colin Firth's Oscar speech, the brilliant Mike Wozniak proving that his comedy-strength does not reside Samson-like in his now-ex moustache, and a blindfolded Tuck having to guess which fruit was being hurled at his head. Yes, but is it art?
The night's headliner, musical comedian Tom Basden, got into the spirit and performed a "genuinely new" song about inept under-cover police officers - which is a keeper, by the way - and closed the show with a beautiful, gag-free and utterly un-ironic cover of Abba's Mamma Mia at Thom Tuck's request.
There is a convention at ACMS that each act leaves the stage to a call of "a noble failure!" - but frankly, very little of what I've seen ever has come anywhere close to failure. Often rough around the edges, regularly odd, and sometimes, I'm sure, never-to-be-seen-again, but very rarely what one would describe as a failure - and occasionally very special indeed.