Richard Herring
One random comedian, eight random questions; it's the ultimate test of funny person and fate. This week's FP is Richard Herring: one-time King of Edinburgh (abdicated) and now Emperor of Online Little Radio Shows, or podcasts, as the cool kids are calling them.
Herring helped make the podcast scene what it is today (don't say 'oversubscribed' - we're implicated too) and has an enviably hefty back-catalogue, although thankfully podcasts take up very little loft space. Now he's taking his popular interview show, RHLSTP, on the road, to the masses - which sounds a logistical challenge?
"The hardest bit of the show has always been the organisational bits of booking the tour and promoting and pushing the kickstarter campaigns," Herring agrees. "On tour this becomes a bit more difficult as I generally need to book someone local, which means finding out who is local and then seeing if I can contact them and then finding out if they are free and interested in doing the show. And hopefully also someone who is well known enough to help sell a few tickets.
"I have been trying to take a few punts - I tried to get Paul McCartney for the Liverpool show, which was clearly insane, but his publicist got straight back to me and said he'd just been listening to the Jimmy Cricket episode and that the prospect was 'interesting'. Sir Paul was not available this time!
"I am also finding the travel a little bit tough as touring and a young family don't exactly mix. But the shows are such good fun to do and I quite like being slightly forced into making some leftfield choices for guests, so it's worth the slight hassle and occasional sleepless night over who the fuck I am going to talk to in Exeter."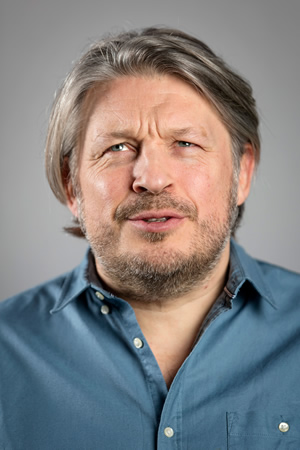 Speaking of leftfield choices, is there one unsung RHLSTP in the archives we should check out?
"There are a few episodes that I consider to be amongst the best that rarely seem to get the mentions of some of the more popular episodes," he says. "I did one with Mark Addy in York a few years ago that was a solid gold classic - a big name guest who was not afraid to take the piss out of himself and discuss his less successful choices. And a real top bloke all round."
RHLSTP! Richard Herring, your Random 8 await.
Who was your childhood hero (real or fictional)?
I loved funny people from the get-go and the ultimate hero who was both real and fictional was the incomparable Rik Mayall. Out of everyone who inspired me to become a comedian, he was the one I looked up to the most. I found out he was dead whilst I was on the toilet. I cried. On the toilet. It was somehow appropriate.
Is there a book or film that changed your life?
Life Of Brian was a huge influence on me as a comedian and person. I was too young to see it when it came out and it challenged religion which seemed breathtakingly dangerous and exciting. Me and my friends managed to bluff our way in without my parents finding out what we were doing.
The long-held desire to see it and managing to do so even though I wasn't allowed were as important as the film itself. That it is pretty much the perfect synthesis of Python and one of the best films of all time is a bonus. It made me want to challenge beliefs with comedy, even my own.
What's the best thing you've ever bought?
I am not really into cars, beyond them getting me where I need to go, but we bought an eGolf last year and use it for all local journeys (which is basically anything within a 50-mile range of our house).
It's amazing how many miles we have done in just 10 months and nearly all from very local trips. And it's easily the most enjoyable car to drive I've ever owned. So it feels like we're making a small contribution to the world's future (I still use a diesel car for touring though).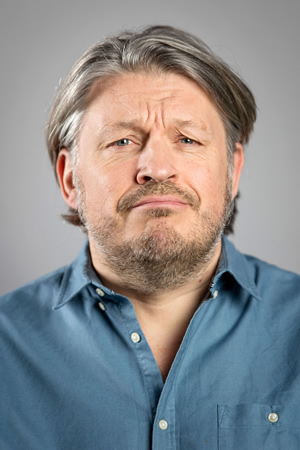 Do you have a favourite building?
Ancient Pompeii is my favourite place to go, and I once sat in one of the smaller amphitheatres there and thought about the Roman comedians who may have died on that stage, perhaps literally.
What's the most interesting thing you ever ate?
I'll have a crack at eating the local dishes and animals, so maybe crocodile in Australia. Not that great to be honest, but the unbalance of nature there is impressive.
Ever had a really disastrous holiday?
Yes, I went to Barbados with a girlfriend who, it turns out, had been proposed to by her ex the day before we went and was secretly on the phone to him all the way through the holiday (the room phone, so I was paying for it).
I got hit by a wave on the second day and was knocked over and banged my head and, for some reason, one of my testicles swelled up to about four times its normal size. It seemed to be a gauge of atmospheric pressure too which made the plane ride home quite an experience.
I broke up with the woman on the taxi ride back home from the airport. She didn't marry the other guy in the end though, but I did ring the number on the itemised bill to discover the truth about what had been going on.
What's the most extravagant thing you've ever done?
In 1999 I travelled round the US on my own and stayed at pretty fancy hotels. I was out there for a month and spent so much that I had to ring up my credit card provider to get an extension on my spending limit.
I was by no means wealthy at the time, though had just completed the last series of This Morning With Richard Not Judy. We didn't make loads for that show, but I probably spent a third of what I got paid on that holiday. Which was crazy given I was travelling solo and was pretty sure we weren't going to get any more TV work any time soon.
I don't think I had a very good time either. But I've always believed that you should spend your money, so as stupid and unenjoyable and lonely as it was, I'm glad I did it.
Who is - or was - your most interesting relative?
I don't think there's anyone particularly notable in there, but my grandmother Doris lived to 102 and had a toyboy married lover ten years her junior when she was 80, and refused to ever act her age.
I hope I can do the same, though maybe not having a 70 year-old boyfriend when I am 80 (hopefully he'll be 50 at the oldest).