Richard Sandling
One random comedian, eight random questions; it's the ultimate test of funny person and fate. This week's ultimate fighter is Richard Sandling, the film-fuelled actor, comedian, writer and now auteur who has a flipping interesting new project on the go, with some notable names sharing the screen(s).
"PHASE is my directorial feature film debut," says Sandling. "Filmed remotely, in isolation, by myself, entirely via Zoom. It's a sci-fi comedy about a performer (Sandling) who spends a day on Zoom hanging out with family and friends while waiting to relaunch his musical career in lockdown - and also possibly fight off an invasion of pan-dimensional clones. So, a standard Tuesday..."
That impressive cast of comic talent includes Phill Jupitus, Stephen Frost, Janet Prince, Katie Pritchard, Alexis Dubus, Stu Goldsmith and more - he's even got Eggsy from Goldie Lookin' Chain, the band who brought us the absolute classic Your Mother's Got A Penis.
You too can join Sandly Kubrick - as we're now calling him - on this stellar journey, as there's an Indiegogo campaign with some nifty rewards: become an executive producer, perhaps, and instantly spice up your CV. Thankfully Sandling's real few months have been fairly free of pan-dimensional problems.
"To be honest I've had quite a lovely lockdown. 15 years of being a self-employed performer who has to stay indoors for weeks at a time due to poverty and having no friends and who has to always have wild, unkempt hair and beard for castings has really put me in good stead to cope with this."
It's quite a phase. Richard Sandling, your Random 8 await.
What was your favourite TV show, as a kid?
Toss-up between SuperTed and ThunderCats. Probably have to say ThunderCats simply because I had all the wallpaper and bedspread and figures.
Which is not to throw shade on SuperTed. SuperTed is fantastic. You can never have enough pro-communist cartoons about the undesirable, discarded elements of society banding together to fight vile big-money corporations and their nefarious plans.
But ThunderCats had the supernatural and better sword fights. And Cheetara.
Which historical figure should get more attention?
Colour Sergeant Frank Bourne. I love the actor Nigel Green and his performance as C.S. Bourne in Zulu. In my opinion, he steals that film from everyone. I found the character so interesting that I tried to research him and his life and there is practically nothing about him anywhere, which I think is a shame. So... actually, I don't know if he should get more attention as I know nothing about him.
A person who you can research who definitely deserves more attention is the American experimental visual artist Carolee Schneemann who is an incredible feminist artist, filmmaker, essayist and photographer who sadly passed away last year and who is revered in art circles, but is yet to have a definitive biography in print for mass consumption. I think her work and her life deserves to be much more widely known.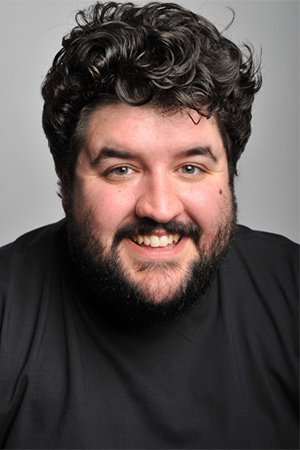 What's your favourite device, ever?
The VCR. VHS is without doubt the greatest thing ever and the most important globally impacting democratising cultural revolution since printing presses were made available to the public, the VCR as a delivery system to play them is incredible, and the different designs of them from toploaders to two-headed decks is truly fascinating.
Which movie would you love to have been in, and which part?
As an actor, I pretty much would have liked to have any part in any movie I am not in, so this is quite tricky. Also, any part I see that I would like to do is largely because of how good the actor is in it so it seems a bit arrogant to suggest I would be good too.
I'd pretty much like all of John Candy's roles. But, obviously, no one would be better at them than John Candy, who is always amazing. But if anyone is looking to reboot Uncle Buck, give me a bell - I'm IN!
Your most interesting injury?
I once shattered my kneecap during a table tennis game when, to throw my whole body into a forearm smash, I brought my leg up with such force I embedded my knee into the underside edge of the table.
What's the best (non-comedy) room you've ever been in?
My friend built a tiny real-ale barrel bar in his front room. That's pretty hard to beat. He didn't even have a big house, it was a standard flat. Yet he turned one corner into a cross between Del Boy's bar and a Hammer Horror locals' inn.
Who was your first celebrity crush (and ever met them)?
Does Sheila from Dungeons And Dragons count? I am still in massive denial that it'll never happen between us. If they have to be actual real people then it would be Drew Barrymore, who I have never met.
What's your favourite fact?
Bill Paxton is the only actor to be killed on screen by an Alien, a Terminator and a Predator. Pedants will try to dispute this by mentioning Lance Henrikson as another one, but we don't actually see him die in Terminator so he doesn't count. It's only Bill Paxton.