Nathaniel Metcalfe
One random comedian, eight random questions: it's the ultimate test of funny person and fate. This week's talented contestant is Nathaniel Metcalfe, who'll be bringing his latest well-crafted Edinburgh hour Chameleon, Comedian, Corinthian and Caricature down south to North London this weekend.
"My show is about a break-up, being an artist and to a lesser extent David Bowie," he explains. "James Acaster directed it, and lots of people have just been enjoying it in Edinburgh. I'll be doing it again at The Bill Murray on Sunday, probably for the final time."
You never can tell. Nathaniel Metcalfe, your Random 8 await.
What's the most interesting thing you've been bitten by?
I'm not sure I've ever been bitten by an animal or an insect but I remember once being bitten by one of those tiny bulldog clips when I was a kid. It did no lasting damage but I recall it being profoundly painful. When I got it off I ran my finger under a cold tap and promptly passed out.
Where do you go to write?
Nowhere. I write on my laptop often laying in bed. I'm slightly ashamed to admit this and I'm sure this sounds like a terrible idea in terms of my productivity, but I find if ever I go out to write in cafes or something I become hyper-aware of wanting to appear to be the mysterious, interesting man writing in a cafe and just become too self-aware and self-regarding.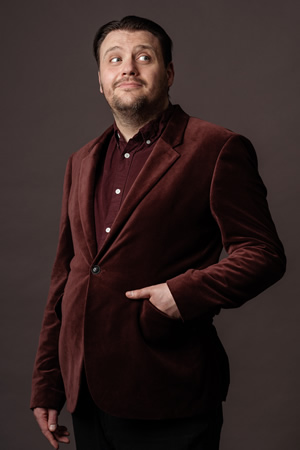 Which body part are you most proud of?
Definitely, my hair, very occasionally. Mostly my hair is of a huge disappointment to me, but occasionally whether it be a combination of perfect length, wind/weather etc, I'll catch a glimpse of it in the mirror and become incredibly conceited about my wonderful appearance.
Which historical figure should get more credit?
It's very recent history but I'm a huge Anthony Newley fan. He co-wrote Feeling Good, the songs from Willy Wonka and the Chocolate Factory, Goldfinger and many others. He also produced one of the most original and off-beat comedy series ever in The Strange World Of Gurney Slade. He was a huge influence on David Bowie.
If that's too recent then let's go with Thrasyllus of Mendes, astrologer to the Roman Emperor Tiberius. I don't hold any truck with astrology but he seems pretty cool in I, Claudius.
Which TV show would you love to have been in?
I would have loved to narrate a story on Jackanory. Looking directly at a camera and communicating directly with your audience is about as simple and perfect as television gets.
Who are you most jealous of?
Bernard Cribbins because he got to do loads of Jackanory's. Not really. I love him. Probably because of that.
How do you feel about gardening?
We have a little garden but don't tend to it at all and let it grow wild. Mowing grass is tedious. I don't really have any fascination with fauna, but the idea of growing veg to eat appeals to me as something I might get into in the future, but not yet.
Favourite bit of furniture, ever?
I've always quite fancied one of those cool white chairs that Number Two has in The Prisoner.