Milo McCabe
One random comedian, eight random questions: it's the ultimate test of funny person and fate. This week's dashing contestant is Milo McCabe, who you may know better via his debonair alter-ego Troy Hawke. You can currently find him in Edinburgh pub The Free Sisters - because he's doing a show there: 1001 Moments with Troy Hawke!
"The show is about extrapolating the subtext and the fact that most things one encounters are deeper than they first appear - and yes, that does stray into conspiracy theories," McCabe explains. "As Troy, using Scrabble theory (his own concept), I expose some very murky goings on. It also covers overthinking, for balance! The room I am in is perfect for the show... as the hour goes on it becomes less a room, more a resistance cavern."
Resistance is futile. Milo McCabe, your Random 8 await.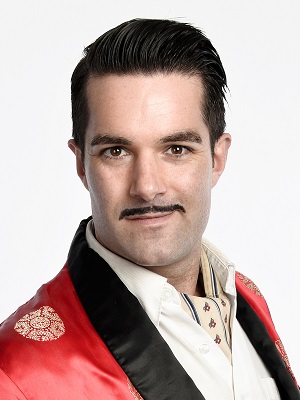 What's the finest thing in your wardrobe?
Definitely Troy's suit. 100% anything Troy wears. I'm married with kids and have embraced that concept sartorially.
Did you have a childhood career dream?
Several. As a very young child I wanted to be a solicitor, then an author. Then I wanted to play James Bond. After that, I started to play the drums and wanted to play in an established band (got that one for a year in 2004 with Tim Booth from James).
Got a few left to tick off though, obviously. Going to leave solicitor until last, I think. If ever. Lord knows why I wanted to be a solicitor. I don't think I even knew what it was at the time. I think I meant lawyer.
What was the worst journey you ever embarked on?
Puberty.
The most memorable building you've ever been in?
Freddie Mercury's old pad in Ibiza, which has been turned into a nightclub in called Pikes. More memorable for the night I had there though, as had done some filming with the band Blue and was hanging with them. Lovely boys.
What was your greatest sporting moment?
Definitely the Comedians Charity Boxing event Kai Humphries organised with his company Punch Drunk in 2016. None of the comedians who fought that night will ever forget it, it was spectacular.
In terms of sporting moments I haven't been involved in, so far in my life it was probably watching Macgregor vs Diaz 2 (UFC). Just a stunning fight with an incredible backstory. Felt like we were watching our generation's Ali.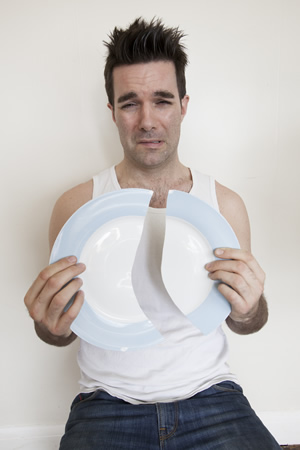 Who's the most disappointing person you ever met?
I had a fleeting career in PR in my early twenties and met a well-known journalist from one of the established 'lad mags' at the time at some press event. I was polite and friendly and he was the most arrogant prick I'd ever come across in my life, projecting 'Gallagher brother' at a health and beauty PR event.
It sounds funny but he lacked the charm to even remotely pull it off. To balance this out, I met Lennox Lewis shortly after he knocked out Tyson and he was the most chilled, lovely, down to earth guy you could meet. Won a fan for life.
Do you have a signature dance move?
Very sore point for me I'm afraid. I used to be one of the those jump up on the nightclub podium guys... stay there all night, holding my spot, sweating my balls off. Then you stop going to clubs so much. Then you become a dad. Then you go to a nightclub for the first time in months/years and you think 'let's give this another crack'. Genuinely devastating.
What's the most interesting thing you ever drank?
Acid, when I got spiked by a racist Dutch dwarf in Benidorm three years ago. The whole group I was with did. 12 hours with six other guys lying on a cramped balcony staring at the sky. We were wondering how he got all of us then remembered the round of foul shots that he bought.