Mark Simmons
One random comedian, eight random questions; it's the ultimate test of funny person and fate.
Yes, after a revitalising month off we're back - as is Mark Simmons. The magic miner of one-liners is hitting stages again after a lengthy lockdown and "I cannot wait," he says, "I had a little taste of it with gigs last week and loved it."
This Thursday he's heading up the road to Bedfordshire, performing with Hal Cruttenden and Zoe Lyons at the scenic Henlow Bridge Lakes. Actually that show has sold out since our chat, but the excellent Castle Comedy have other outdoor shows, in Beds: at Henlow Bridge next Tuesday it's Paul Tonkinson, Laura Lexx and Julian Deane, while at Flitwick Rufus Centre on Saturday 26th there's Nathan Caton and James Redmond, all hosted by Paul Revill. Worth the wait.
So how were those fallow months for Simmons?
"I've been lucky enough to have done a lot of Zoom gigs which I enjoyed, but you can't beat doing it in person," he says, "although would be great if we can keep the mute button for live gig hecklers."
Now there's a thought. Mark Simmons, your Random 8 await.
What was your childhood career dream?
Always wanted to be a policeman.
I strongly believe shoplifters can be rehabilitated, because you can't help people unless they are willing to help themselves.
Ever met a surprisingly great or awful famous person?
I stood behind Benedict Cumberbatch in a bakery queue once and he was surprisingly shorter than I imagined. He looks like a much longer man in films.
What's your favourite mode of transport, and why?
I love driving my car around the country playing podcasts and music.
Although, the other day I flicked on the radio and started listening to Magic, which was rubbish because it's quite a visual art form.
And if you like podcasts and jokes you should listen to the Jokes with Mark Simmons podcast, where I chat to other comedians about jokes they can't get to work.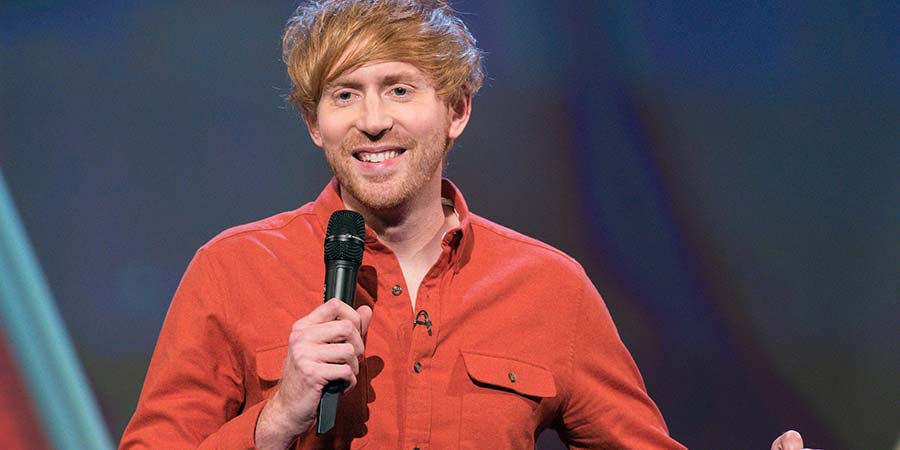 Which British town should be abolished?
I can't answer that, it's so risky slagging off a town that I may end up playing again and it could cause a difficult situation if someone from Coventry read it and came to the gig.
What's the weirdest thing you ever saw?
I was once sitting in the tube early in the morning and the trousers of a man standing by the door just fell down, no underwear, and he just stood there not really reacting. Genuinely thought it was some kind of hidden camera show.
Ever gatecrashed anything interesting?
I once gatecrashed a stag do but don't remember any of it.
I was playing a gig in Leeds, went to the bar downstairs afterwards with another act. Whilst we were there the father of a stag do at the show started talking to us and brought me a Jägerbomb. This is the last thing I remember.
The next morning (1pm) I woke up to a text message (sent at 8am) saying "Are you still coming go karting?"
Your most interesting injury?
I once dislocated my shoulder during sex. My girlfriend panicked, asked if she can help pop it back in, I said, "You'll have to wait till I sort out my shoulder."
Who are you most envious of?
I don't have this problem. I've got an amazing therapist. He totally cured my jealousy... I wish I could be more like him.