Liberty Hodes
One random comedian, eight random questions; it's the ultimate test of funny person and fate.
Rocking up this week is Liberty Hodes, who proudly admits to being a Weirdo and a Slug. Yes that may put you in mind of certain politicians (or their advisors) but no early-day motions here; lots of late-evening commotion though. Let's let Liberty do the proper introduction.
"I am Liberty Hodes, performance artist and member of punk band The Slugs," she explains, "and a long time Weirdo since approximately 2013!"
That gleefully inventive collective should now be sorting their annual panto, but instead have a big online adventure this Friday, Weirdos In Space, which sounds pretty stellar, unless it's a clever pun on social distancing. Details are currently sketchier than their hand-drawn scenery so instead we'll ask Liberty what she's done in previous Weirdos bashes.
"I've played a few fun roles," says Hodes, "including WH Smiths, Ian Beale, a campfire, a human vending machine, and original member of Weirdos house band The Dickheads."
Now that's range. Liberty Hodes, your Random 8 await.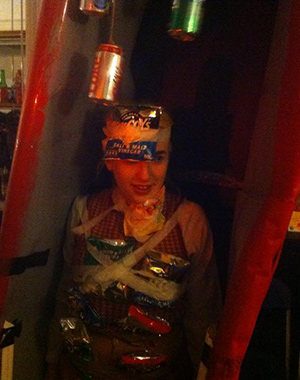 Who is - or was - your most interesting relative?
My dad has done a lot of interesting things in his life. Whilst he was at medical school in the 80s he was a clown called Arnold T Nosebag, living in a squat in Vauxhall. He goes on a lot of exciting walks, eats breakfast with unmatched enthusiasm and will turn his hand to any hobby, recently becoming a tour guide for a really long tunnel. My mum is also very interesting too, mind!
Is there a movie or album that changed your life?
There's at least one per week! I believe that the Magic Roundabout film - Dougal And The Blue Cat - set the tone for me and influenced the direction of my tastes throughout my life.
It's really good, there's an ominous blue house voiced by Fenella Fielding (you may know her from Carry On Screaming), a blue cat called Buxton and the best song from any film - Florence's Sad Song.
It's a very scary film, which is a reason I love 70s children's TV and films, I think that children's films now can be a bit patronising.
What's the most interesting room you've ever been in?
Maybe the reproduction of an East German flat inside the DDR museum in Berlin - or even the whole museum, if that counts?
Your most interesting injury?
I've actually barely injured myself, really, but I had a good phantom scab on one of my knees from when I fell over on the ice a few years ago; the scab turned into psoriasis and was always there, but it disappeared during lockdown one. Was it trying to tell me something?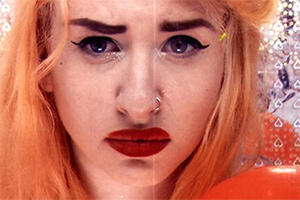 Which low-key law would you introduce?
When people are indoors they have to use inside voices. And I'm all for children having fun and a great time but I would like to outlaw screaming as a way of expressing joy. Instead people should whisper "I am having such a great time!"
What should be Britain's next national anthem?
Coronation Street theme tune please.
Which historical figure should get more attention?
Tony Warren, the creator of Coronation Street, and the man who brought the Kitchen Sink genre to our screens. He'd be rolling in his grave at the state of it now, mind!
What's the very best thing you ever saw, onstage or off?
I saw a woman feeding loads of pigeons in Victoria Park, and she obviously fed them every day because they seemed to know who she was. There was about 50 of them flapping around her head, and she didn't even flinch.