Drive in comedy clubs
Drive in comedy clubs planned
Comedian Tom Binns is planning to launch a drive in comedy club, which will visit various cities
He has launched a Kickstarter campaign to raise the £5000 needed to buy the technology
The stage will be on top of a camper van. One-day festivals are planned for various cities in August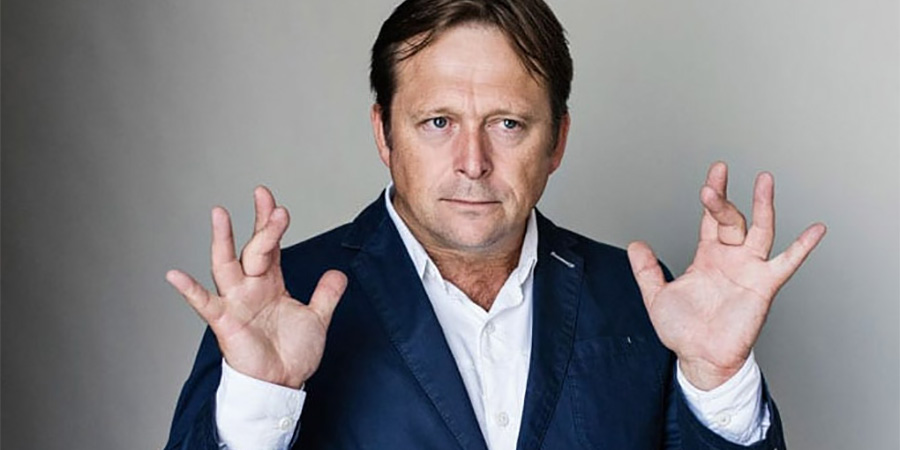 Live comedy will return as a drive-in experience if Tom Binns has his way.
With clubs closed for the foreseeable future due to coronavirus, the creator of hapless hospital radio DJ Ivan Brackenbury is crowdfunding an initiative to establish a drive-in club to tour the UK.
Presenting big name acts from a stage atop his camper van, the character comic envisages performances for up to 200 vehicles, from as early as July.
And wonderfully, the idea began as a throwaway joke. When a promoter posted images of his "fancy new venue" on Facebook which he planned to open in September - when many assume gigs will not have returned - Binns "trolled" him with an image of a drive-in audience.
"And then I woke up the next day thinking 'actually, why not?'" he told British Comedy Guide.
He anticipates that the shows could maintain social distancing rules in football and golf club course car parks and is seeking £5000 through Kickstarter to buy the roof stage and technology required, not just to transmit the performance to car radios but to convey the laughter back from some vehicles.
Anyone donating as little as £20 can get a show within 15 miles of their house and two tickets. Binns also plans to establish one-day festivals in Edinburgh, Manchester, Birmingham, Sheffield, Bristol and London in August, featuring comics who would have been performing in the Scottish capital during the Fringe.
If successful, he will share the format with promoters around the UK, enabling them to revive their local comedy operations.
"I don't feel it's fair to crowdsource the money and not crowdsource the information back for anyone that wants to use it. But also I don't want to get involved in promoting again. It's the sort of thing that should be left to comedians that aren't good enough to get gigs" he semi-jokes.
"The last time I promoted a club was when no-one would book me!
"It would be great if we could pull it off. I would even consider registering it as an Edinburgh Fringe venue in the future once things relax completely."
Lining up Chesterfield FC's car park as his first venue, he can't divulge the bill yet. But he coyly hints that they're "people who've had chatshows on TV and big radio shows north of the border. And the kind of person you might hear on The News Quiz.
"What's great about this is that it's mobile, so these big names that I'm hoping to confirm, I can pull up relatively near to where they live. That'll make things easier as I'll just drive to Glasgow or West London. Also, I'm relying on the fact that they'll be really keen to perform again by the time we get up and running."
There are potential snags though. In America, the relatively cheap technology of low-powered FM transmitters are enabling a smattering of comedy clubs to continue practising social distancing, as well as cinemas and even churches.
But Ofcom regulations in the UK require a £500 licence "every time you power one of those up" he explains. "And you don't know whether you're going to get it until it's too close to the deadline.
"We have to come up with another way of transmitting the sound into cars, which is the expensive bit. You can't have a giant PA because the neighbours will complain. I've partnered with a broadcast company and we're going to be broadcasting the signal to people's mobile phones. They'll be connected to the stage via Wi-Fi and they'll be encouraged to hook them up to their car stereo speakers."
So his main concern is "comprehending how big 200 cars look, how far apart they can be and still see the stage."
Also crucial, as he's discovered from the Ivan Brackenbury & Friends Stay at Home Tour shows he's performed since lockdown, is conveying the laughter from punters back to the stage.
"I've done four shows now online and found them remarkably less awkward than I thought they were going to be" he says. "Having five tiny little boxes at the bottom of the screen with a sample of the audience in, and I could see and hear them laughing, it made me realise that we need the equivalent of that. The front row at the very least ought to be miked up for the comedian. Because I think there's no other way of doing it.
"It'll be important for punters to hear laughs from the other cars too, so we might actually feed the audience group we sample through the system for everybody else."
As a father of three sons under seven, home-schooling solo as his wife is a key worker, Binns hasn't had the luxury of missing stand-up, "as I'm full on performing for them the whole time.
"But the internet shows I've really enjoyed" the former XFM and BRMB show host suggests. "I used to do four-hour comedy talk shows on the radio, so rather than an awkward compromise, they feel like a fun hybrid between my radio and stage show."
Unfortunately, as a hospital radio DJ, liable to play precisely the most inappropriate song, the Edinburgh Comedy Award-nominated, gaffe-prone Brackenbury is problematic at a time when hundreds of people are still dying daily from coronavirus.
"I'm getting him to stay away from all that" Binns admits. "But the good thing about Ivan is that he doesn't know he's funny, so I'm not as reliant on audience feedback as most comics. And I can fill the awkward gap after a joke where you're not hearing the laughter with a jingle. He's fine, don't worry about him. It's my psychic comedian* I'm concerned about."
*Not to be confused with Binns' previous, not dissimilar spoof psychic character Ian D Montfort.
The Kickstarter for Drive in Comedy Club runs until 11th June 2020.
---
For updates, click the button below.
Share this page