Police raid Hot Water club
Police raid empty comedy club over live stream mix-up
Merseyside Police arrived at Hot Water Comedy Club to shut down a live-streamed gig
However, the video was actually a repeat of a show that filmed three weeks ago, before the coronavirus lockdown
CCTV footage shows multiple officers arriving at the locked door of the Liverpool comedy club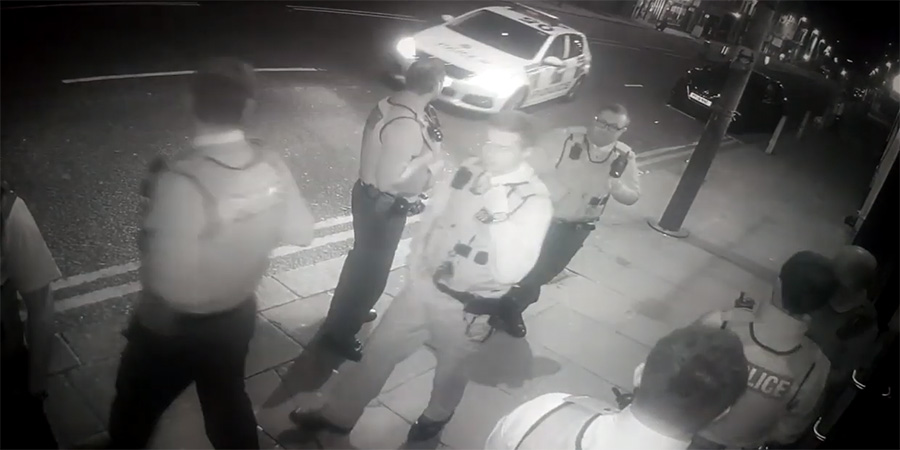 Merseyside Police turned up in force to shut down Hot Water Comedy Club last night (Saturday 28th March) after a member of the public tipped them off that it was streaming a stand-up show on the internet featuring a full audience.
However, the cops found the Liverpool club's doors were shut, as they were in fact streaming a performance that had been filmed three weeks ago, before coronavirus lockdown rules took hold.
The club posted video footage from their CCTV camera on their YouTube account, which shows multiple police officers turning up at their door. The footage starts by showing at least 10 officers outside the club around 9:30pm, with another police car arriving shortly after.
Speaking last night, the club said: "Tonight we streamed a show we filmed back on 7th March. Someone thought it was live and grassed us up to the police, who sent 12 officers a van & a car to shut us down..."
They added: "Fair play to the police responding so fast."
Some comedy clubs are continuing to stream stand-up shows. For example, The Stand is multicasting new shows from its club, however whilst these are indeed live streams, no audience is present in these situations.
Hot Water's streamed show, which does feature an audience, was hosted by resident MC Paul Smith, with Adam Staunton, Dan Nightingale and Paul Tonkinson. At the time of writing it has been seen by 18,000 viewers on YouTube and 22,000 on Facebook. It can still be watched below:
Share this page