Count Arthur Strong 2019 tour
Count Arthur Strong announces 2019 tour
Count Arthur Strong will tour the UK between September and November 2019
Titled Is There Anybody Out There?, his new show will focus on his passion for astronomy
The character says: "Do not miss this not to be missed type of thing!"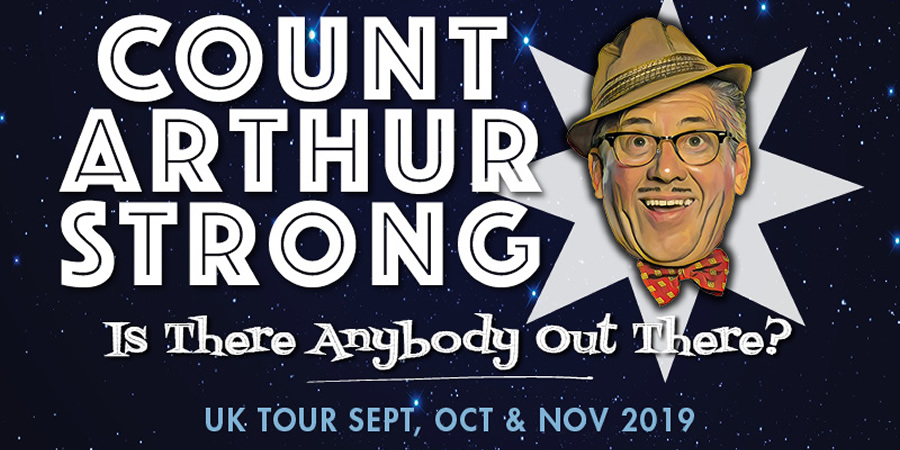 Count Arthur Strong will tour the UK in 2019 with astronomy themed show Is There Anybody Out There?
His promoters explain: "As well as being the all round entertainer we all know and love from the telly, Count Arthur Strong is also a lifelong fan of astronomy, since having been given a microscope, or whatever it is they use, for Christmas when he was a small precocious baby. In fact it's said the first word he spoke was 'Uranus'.
"In this, his brand new show, he seamlessly combines the very best showbiz entertainment you'll currently find, in the world, possibly? as he wrestles with some of the big questions that other all round entertainers shy away from. Such as:
Are we alone in the universe?
Is there life on Mars bars?
2lbs of potatoes.
Packet of ginger nuts.
Don't lose this shopping list."
Count Arthur Strong himself says: "Do not miss this not to be missed type of thing! If I wasn't in the show I'd definitely be in the audience watching myself intently. Laughing and learning in equal measure. Thoroughly happy to pay the admission fee and definitely not asking for a refund. Also not rustling sweet wrappers and fiddling with my sodding telephone with a gormless expression on my face. See you there!"
A list of dates is below.
Played by Steve Delaney, Count Arthur returns to Radio 4 this Christmas for the 50th episode of Count Arthur Strong's Radio Show!. The festive-themed episode Doorknobs and Matchsticks will be broadcast on Boxing Day at 6:30pm.
Count Arthur Strong 2019 tour dates
18 September: Durham Gala
19 September: Leeds City Varieties
20 September: Buxton Opera House
21 September: Ilkley KingsHall
22 September: Crewe Lyceum
25 September: Winchester Theatre Royal
26 September: Southend Palace
27 September: Swindon Wyvern
28 September: Lyme Regis Marine Theatre
29 September: Bristol Old Vic
02 October: Epsom Playhouse
03 October: Newport The Riverfront
04 October: Nottingham Playhouse
05 October: Monmouth Savoy
06 October: Leamington Spa Royal Spa Centre (Com Fest)
09 October: Hawick Town Hall
10 October: Aberdeen Tivoli (Com Fest)
11 October: Greenock Beacon Arts Centre
12 October: Kirkcaldy Adam Smith Theatre
13 October: Leeds City Varieties
16 October: Huddersfield Lawrence Batley Theatre
17 October: Lancaster Dukes
18 October: Harrogate Theatre (Com Fest)
19 October: New Brighton Floral Pavilion
20 October: Sheffield Memorial Hall
23 October: Southport Atkinson
24 October: Scarborough Spa Theatre
25 October: York Barbican
26 October: Glasgow Pavilion Theatre
27 October: Salford Lowry
30 October: Norwich Playhouse
31 October: Norwich Playhouse
01 November: Milton Keynes Stables
02 November: Oxford Playhouse
03 November: London Leicester Square
06 November: Hertford Theatre
07 November: Northampton Royal
08 November: Bexhill De La Warr
09 November: Margate Theatre Royal
10 November: Derby Theatre
13 November: Newcastle Tyne Theatre & Opera House
14 November: Lincoln Performing Arts Centre
15 November: Preston Guildhall Charter Theatre
16 November: Bridport Electric Palace
17 November: Exeter Northcott
20 November: Taunton Brewhouse
21 November: Stafford Gatehouse
22 November: Wrexham William Aston Hall
23 November: Malvern Forum Theatre
24 November: London Bloomsbury Theatre
27 November: Runcorn The Brindley
28 November: Chesterfield Winding Wheel
29 November: Redditch Palace Theatre
Tickets for some dates are available now via Ticketmaster
---
For updates, click the button below.
Share this page